In the above paper [1], the author gives that

is always greater than 0 as

in [1]. However,

should be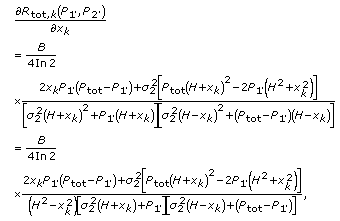 (1)
where

. It is observed that the denominators of (1) and

in [1] are the same and positive whereas the numerators are different. From (1), it cannot be assured that

is always greater than
for example, when

,

. Therefore, the total channel capacity is not always monotonically increasing function of

for the given power allocation, and

and

in [1] cannot be obtained. Meanwhile, the extended proposition in [1, Section

] does not stand.
References
1.

Wang W, Yan S, Yang S: Optimally joint subcarrier matching and power allocation in OFDM multihop system. EURASIP Journal on Advances in Signal Processing 2008, 2008:-8.
Rights and permissions
Open Access This article is distributed under the terms of the Creative Commons Attribution 2.0 International License (https://creativecommons.org/licenses/by/2.0), which permits unrestricted use, distribution, and reproduction in any medium, provided the original work is properly cited.
About this article
Cite this article
Wang, L., Xi, Y. & Wei, J. Correction to "Optimally Joint Subcarrier Matching and Power Allocation in OFDM Multihop System". EURASIP J. Adv. Signal Process. 2010, 126230 (2010). https://doi.org/10.1155/2010/126230
Received:

Accepted:

Published:
Keywords
Information Technology

Quantum Information

Power Allocation

Optimally Joint

Multihop System