Research Article
Open Access
A Locally Adaptable Iterative RX Detector
EURASIP Journal on Advances in Signal Processing
2010
2010:341908
Received: 27 November 2009
Accepted: 1 April 2010
Published: 10 May 2010
Abstract
We present an unsupervised anomaly detection method for hyperspectral imagery (HSI) based on data characteristics inherit in HSI. A locally adaptive technique of iteratively refining the well-known RX detector (LAIRX) is developed. The technique is motivated by the need for better first- and second-order statistic estimation via avoidance of anomaly presence. Overall, experiments show favorable Receiver Operating Characteristic (ROC) curves when compared to a global anomaly detector based upon the Support Vector Data Description (SVDD) algorithm, the conventional RX detector, and decomposed versions of the LAIRX detector. Furthermore, the utilization of parallel and distributed processing allows fast processing time making LAIRX applicable in an operational setting.
Keywords
True Positive RateAnomaly DetectorIterative RefinementGeneralize Likelihood Ratio TestSupport Vector Data Description
1. Introduction
In many experiments, the RX detector is modified in a preprocessing fashion [1–10] in order to minimize the false alarm rate while attaining a reasonable true positive rate. In most cases the modifications that are proposed can be generally described as dimensionality reduction variants coupled with RX [5, 10], window adjustments for covariance estimates [2–4], and the RX detector coupled with an entropy and a nonparametric approach [1, 6]. In cases where a new anomaly detection methodology is proposed, the RX detector is often used as a performance benchmark [9, 11–14].
The literature on anomaly detection in HSI is quite extensive [1–5, 7–12, 14–18] with major contributions appearing rapidly after Reed and Yu [19, 20]. In anomaly detection, the goal has always been to distinguish background from potential targets in an automatic fashion while jointly minimizing false alarms and maximizing true positives.
The RX detector is prone to high false alarms because the local Gaussian assumption is largely inaccurate [11]. The purpose of this paper is to propose a refinement of the RX detector by taking into account the anomaly dominance upon first and second order statistic estimation. That is, we wish to force stability upon the subsequences, locally defined with respect to a window size, in order to reduce the bias and error when estimating the mean and covariance, respectively. The subsequences are refined by removing anomalies, in an iterative fashion, from consideration in local statistics estimation. Even so, the refined subsequence that is used to estimate a mean vector,

, and the covariance matrix,

, is likely to still be nonGaussian; but, as is demonstrated subsequently, it often provides a better false alarm rate than the conventional RX because its estimates are not as contaminated by anomalies.
To illustrate the potential of this idea, consider the following "abbreviated" image created from a desert image (see Figure
1
). The image is "abbreviated" in that the targets have been moved closer together than in the original image by simply eliminating columns of image pixels. This creates a situation with a very nonhomogeneous background. This small image is 63

49 pixels. A 25

25 window will be used in all subsequent processing. In Figure
1(a)
the truth mask shows the known objects of interest. Figure
1(b)
shows the RX scores for the HSI image, Figure
1(c)
shows the RX scores for the 1st 10 principal components (instead of using the entire HSI data-cube), Figure
1(d)
shows the output of LAIRX for 2 iterations (called LAIRX (2) in subsequent discussion), using PCA for the input. In Figures
1(b)
,
1(c)
, and
1(d)
RX scores are displayed such that anomalies are expected to "fire" as bright and the background should "fire" as dark. Figure
1(b)
shows that many background pixels may be declared as anomalies (depending on the threshold) for RX. Figure
1(c)
shows the benefit of using principal components as input to RX. Figure
1(d)
shows a large reduction in lighter pixels in the background using one iterative refinement of the covariance calculation used in RX.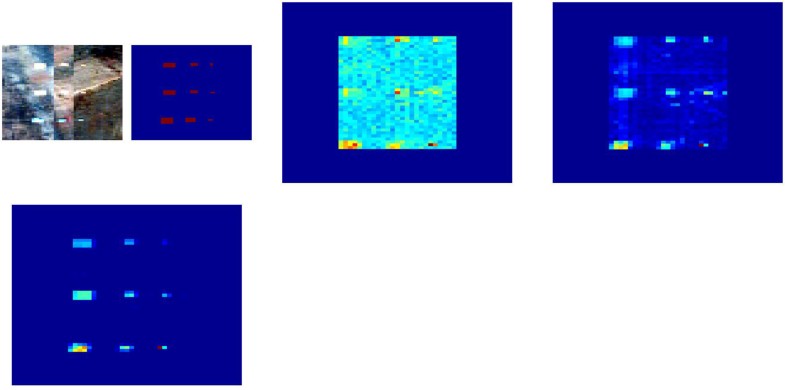 2. Methods
The data used in our experiment are from the ARES desert and forest radiance collections. In our analysis we only consider two classes, background and certain man-made targets. The goal of our analysis is to distinguish the latter from many sources of background variation, such as brush, roads, forest, large rock formations and other natural anomalies.
3. Results
In what follows, ROC curves are presented for each image in Figure
7
and summary statistics are offered in Table
1
.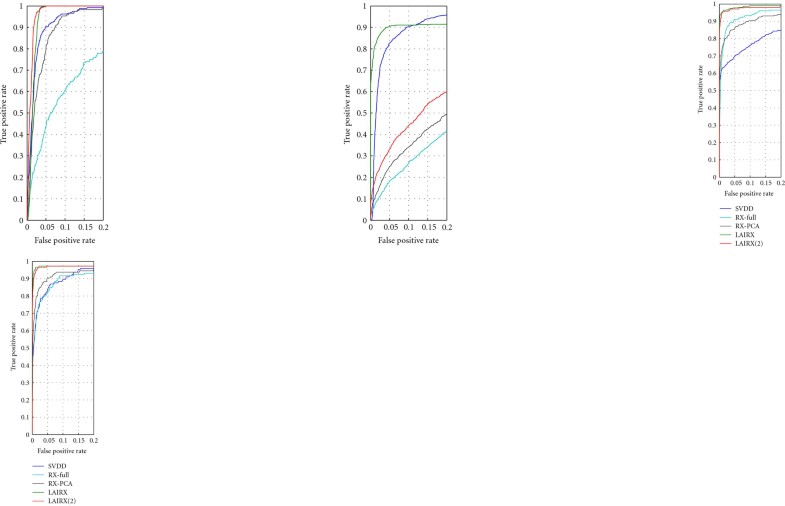 For ARES1D, the background and target pixels are linearly separable given the first and second principal components (see Figure 5(a)). Additionally, the SNR is showing a clear separation with lower SNR values present for the target pixels, which is encouraging (see Figure 5(b)). We would expect with these observations that the RX-type classifiers should do very well and that the nonlinear classifier, SVDD, should also perform reasonably well. When viewing the ROC curve for ARES1D, you can see that PCA is beneficial for the RX derivative methods. The SVDD algorithm is performing well but as you can see in the SVDD statistic map there are many locally clustered areas which display the same in value as the target pixels.
The image ARES1F poses difficulties for all the algorithms tested. ARES1F which has a very noisy SNR statistic map, as you can see in Figure 3(b). This image in particular, highlights the benefits of LAIRX's iterative approach.
The image scene is similar for both ARES2F and ARES3F (Figure 2). As you can see in Figure 3, the SNR map is showing a reasonable segmentation for both of these images and the distributions are somewhat separable. Table 1 and Figure 7 show that performance is good across the board with LAIRX being superior. It is interesting to point out that the nonlinear technique is performing poorly in contrast to the other algorithms. Additionally, the data associated with these images is separable in a lower dimensional subspace, as you can see in Figure 3, which indicates that the RX type approach should perform well. Also, note that for ARES2F and ARES3F the SVDD statistic maps depicted in Figure 5 is showing that large natural anomalies have a similar value as the targets, which leads to a higher false positive rate.
4. Discussion
We have presented an unsupervised automatic target detection algorithm which builds upon the conventional RX detector by direct manipulation of the RX algorithm. As a practical matter, the LAIRX detector must have data preprocessed as principal components before detection which hinders real-time viability while the global SVDD builds a model based upon background spectra and then classifies raw pixel vectors as anomalous as they are received. However, the global SVDD is a supervised algorithm given that a set of background spectra and RBF spread parameter are specified which may limit its real-time viability in a dynamic operational setting.
For the types of images analyzed here, our results have shown that LAIRX is a reasonable competitor to the SVDD algorithm and that a linear technique can perform well in a nonlinear environment after statistic estimation modification. We have also demonstrated, see Table 1 and Figure 7, that the algorithmic steps taken to create LAIRX interact in a way that lead to higher true positives coupled with low false positives. By introducing iterative refinement, we are getting better performance because the first and second order statistic estimation have less bias and error. Our method has demonstrated potential in an image scene with sparse vehicle activity. Whether or not similar results follow in a densely populated target environment remains to be seen.
Both LAIRX and LAIRX(

) are implemented in a parallel and distributed fashion which makes these algorithms computationally efficient. The processing time for LAIRX and LAIRX(

) are constrained by the number of available processor cores. In general, LAIRX is somewhat slow as you can see in Table 1 but the ready availability of cluster machines and even affordable 8 processor core machines make LAIRX a viable algorithm in an operational setting. In contrast, the runtime of the global SVDD algorithm is fixed from an algorithmic perspective of parallel and distributed computing.
Authors' Affiliations
(1)
Air Force Institute of Technology, Wright Patterson AFB, USA
Copyright
© Yuri P. Taitano et al. 2010
This article is published under license to BioMed Central Ltd. This is an open access article distributed under the Creative Commons Attribution License, which permits unrestricted use, distribution, and reproduction in any medium, provided the original work is properly cited.