Research Article
Open Access
Subspace-Based Holistic Registration for Low-Resolution Facial Images
EURASIP Journal on Advances in Signal Processing
2010
2010:591412
Received: 9 December 2009
Accepted: 14 July 2010
Published: 29 July 2010
Abstract
Subspace-based holistic registration is introduced as an alternative to landmark-based face registration, which has a poor performance on low-resolution images, as obtained in camera surveillance applications. The proposed registration method finds the alignment by maximizing the similarity score between a probe and a gallery image. We use a novel probabilistic framework for both user-independent as well as user-specific face registration. The similarity is calculated using the probability that the face image is correctly aligned in a face subspace, but additionally we take the probability into account that the face is misaligned based on the residual error in the dimensions perpendicular to the face subspace. We perform extensive experiments on the FRGCv2 database to evaluate the impact that the face registration methods have on face recognition. Subspace-based holistic registration on low-resolution images can improve face recognition in comparison with landmark-based registration on high-resolution images. The performance of the tested face recognition methods after subspace-based holistic registration on a low-resolution version of the FRGC database is similar to that after manual registration.
Keywords
Face RecognitionFacial ImageRegistration MethodEdge ImageGallery Image
1. Introduction
Face recognition in the context of camera surveillance is still a challenging problem. For reliable face recognition, it is crucial that an acquired facial image is registered to a reference coordinate system. Most conventional registration methods are based on landmarks. To locate these landmarks accurately, high-resolution images are needed. For those methods, it is problematic to register low resolution facial images as obtained in video surveillance. In the Face Recognition Vendor Test [1], low-resolution face images are defined to contain an interocular distance of 75 pixels, we used even lower resolutions with interocular distances of 50 pixels and lower. High-resolution face images have an interocular distance of more than 100 pixels. Face registration on low-resolution images is in these cases often omitted and the region found by the face detection is directly used for face recognition [2, 3]. In our opinion, accurate face registration can contribute to better recognition performance on low-resolution images. Therefore, we developed a Subspace-based Holistic Registration (SHR) method, which uses the entire face region to correct for translation, rotation, and scale transformation of the face, which enables us to accurately register low-resolution facial images. The face registration is performed after a frontal face detector, which detects a face at a certain scale and rotation variations, limiting the search for the final registration parameters.
As already pointed out above, registration methods can be divided into two categories: landmark-based registration, using landmarks to register the face image, and holistic registration, using the entire image for registration. Of the latter only a few methods have been reported.
In the first category, the object detection method of Viola and Jones [4], originally proposed for face detection, is a popular approach to locating landmarks [5–7]. The advantages of this method are that it is fast and robust in comparison with other landmark methods. Many papers report good results especially in uncontrolled scenarios. However, occasionally landmarks are not found by this method. In [8], a probabilistic approach using Principal Component Analysis (PCA) is used to locate the landmarks. Subspace methods for facial feature detection are also used in [9–11]. Some landmarking techniques are not only based on texture, but also use geometric relations between landmarks, for instance [12–15]. These methods usually require more landmarks and high-resolution facial images. A well-known example of such a method is Elastic Bunch Graphs [12]. Elastic Bunch Graphs are used to determine the relation between different landmarks. The relation between the landmarks and the scores of Gabor Jets are combined to register and recognize the face. Active Shape Models [16] and Active Appearance Models [17] can also be used to perform a fine registration of a face, by using both texture and the relation between the landmarks. Both methods, however, need a good initialization to find an accurate registration, which can be provided by, for instance, the Viola and Jones landmark finding method.
In the second category of registration, there are correlation-based registration methods that are invariant to translation. The MACE filter originally described in [18] and used in face recognition in [19, 20], is invariant for translations. In [21], a face registration method using super resolution is described that performs correlation to compare the original image with a reconstructed image obtained using super resolution, correcting for translation and scale variations. The method described in [22, 23] is a correlation-based method that finds a rigid transformation to align the facial images, which is done using robust correlation to a user template.
Another way of evaluating the registration quality is by using the similarity score determined by a face recognition algorithm. In [24], the manually labelled eye coordinates are used as a starting point from which the eye coordinates are varied to obtain different registrations. The registration that resulted in the best similarity score is selected. This experiment was performed using several different face recognition algorithms. In [25], we performed a similar experiment and in addition showed that small changes in the registration parameters can have a huge effect on the similarity scores of face recognition algorithms. In [26, 27], we proposed a matching score-based face registration approach, which searches for the optimal alignment by maximizing the similarity score of several holistic face recognition algorithms, for example, PCA Mahalanobis distance. In [28], the PCA Mahalanobis distance is used to find the registration parameters for low-resolution images using a different search strategy as in [27], where the focus of the paper is face hallucination. In [29], this face registration method is extended especially for the purpose of face hallucination. We performed no experiment using face hallucination, because our focus is on face registration and its effect on the recognition. In this paper, we extended the work in [26, 27], by developing Subspace-based Holistic Registration (SHR) method. The novelty of this method is that we use a probabilistic framework designed to evaluate the registration of faces, instead of maximizing the score of a face recognition method, which might not be suited for comparing unregistered face images.
2. Face Registration Method
3. Experiments
In this section, we describe experiments to evaluate the performance of SHR. The main purpose of SHR is to improve the face recognition performance, particularly at low-resolutions. The goal of the experiments, therefore, is to demonstrate and quantify the improvement of face recognition performance if SHR is used for face registration. We will present results of the following comparisons:
(i)

Comparison with earlier versions of SHR [27]. These experiments are included to illustrate the positive effect of the new evaluation criteria given in (6) and of the features discussed in Section 2.2.2;

(ii)

Comparison with landmark-based registration based on automatically detected landmarks as well as on manual landmarks;

(iii)

Comparison between user-independent and user-specific registration;

(iv)

Comparison between two search methods (Section 2.4) in both performance and computation time;

(v)

Comparison of SHR performed on lower resolutions.
3.1. Experimental Setup
3.1.1. Face Database
To perform the experiments, we use the Face Recognition Grand Challenge version 2 (FRGCv2) database [
34
], on which we perform the one-to-one controlled versus controlled experiments. We train both face registration (landmark methods and SHR) and face recognition methods on the training set defined in the FRGCv2. We calculated all the similarity scores, which resulted in the Receiver Operating Characteristic (ROC) of the entire set and the ROC of the three masks defined by the FRGCv2 database. Mask I compares the images that are recorded within a semester, for Mask II this is within a year, while Mask III compares images that are recorded between semesters. To compare the different settings of SHR, we use a random subset to reduce computational costs of the face recognition. We still register every gallery and probe image but instead of computing all the scores, we calculate for every probe image one genuine and one impostor score from a randomly chosen image in the gallery. The same random images are used for all the experiments. We show in Table
1
, that the recognition results of the random subset are comparable to the results on the entire set.
| | Mask I | Mask II | Mask III | Entire Set | Random Subset |
| --- | --- | --- | --- | --- | --- |
| PCA Mah | 54.0% | 48.8% | 42.9% | 50.3% | 52.2% |
| PCA MahCos | 72.4% | 67.2% | 61.8% | 68.2% | 69.8% |
| Adaboost | 91.4% | 88.3% | 84.9% | 88.9% | 89.5% |
| PCA LDA | 92.1% | 90.4% | 88.6% | 90.8% | 91.0% |
3.1.2. Face Detection
Face registration depends on the input of a Face Detection method. We used the OpenCV implementation [35, 36] of the Viola and Jones algorithm [4] to find the faces. We used the pretrained model called "haarcascade_frontalface_default.xml". In order to avoid misdetections, we included some simple heuristics based on the manually labelled landmarks to determine if the face regions were correctly found. All landmarks have to be inside the face region and the width and height of this region is less than four times the distance between the eyes. Facial images in which the face is not correctly found are removed from all experiments.
3.1.3. Low Resolution
SHR is developed for low-resolution images. Because there are no large low-resolution face databases, we used the FRGCv2 database and created low-resolution facial images by low-pass filtering and subsequent downsampling. Using low-resolution facial images makes the comparison of the performance of our face recognition methods with the state of the art difficult, because these are primarily focussed on high-resolution facial images. Also, landmark-based registration methods work poorly on these resolutions. For this reason, we performed the landmark finding on high-resolutions images, thus given them an advantage over SHR.
3.1.4. Face Recognition
We measured the performance of face registration by its effect on face recognition. In [
37
], a similar comparison is performed on the FRGC database, where the baseline PCA and PCA-LDA face recognition methods are used. We decided to use not only holistic but also feature-based methods, in order to demonstrate that different face recognition methods benefit from improved registration. We used our own implementation of the following face recognition methods:
In Table
1
, we show the face recognition results with an interocular distance (distance between centers of the eyes) of 50 pixels using registration with manually labelled landmarks, showing the capacity of the face recognition methods if the registration is almost perfect. This is confirmed by [
37
], where their registration method is not able to perform better than manually registered images. From the results in Table
1
, we observe that of the selected face classifiers, the PCA-LDA likelihood ratio performs best, closely followed by Adaboost with LBP. SHR is developed for low-resolution images using an interocular distance of 50 pixels instead of the available 350 pixels, this makes comparison with other results published on these databases difficult. In Figure
3
, we attempt to show the relation between resolution and verification rate. Below approximately 50 pixel interocular distance, we expect that the verification rate decreases rapidly. At least part of this decrease is caused by failing registration at low-resolutions, which we address in this paper. The area of interest for camera surveillance is the shadowed area in Figure
3
and the stars mark the published results. In [
1
], an experiment is performed on a low-resolution database called HCInt portion of the FRVT 2002 (not available to us), which uses an interocular distance of 75 pixels. The best verification rate reported on the HCInt portion are

95% at FAR

0.1% for gallery normalized experiments. Our best face recognition method gave a verification rate of 91% at FAR

0.1% for an interocular distance of 50 pixels with a one-to-one experiment, which is more difficult than a gallery normalized experiment. This matches the expectations we have of good results that can be obtained using face recognition on facial images with an interocular distance of 50 pixels. In [
41
], a verification rate of

67% at FAR

0.1% was reported for the PCA Mahalanobis distance classifier on the high-resolution experiments. For the same classifier, we obtained a verification rate of 50.3% at FAR

0.1% for an interocular distance of 50 pixels. This once again illustrates the drop in verification rates for low-resolutions.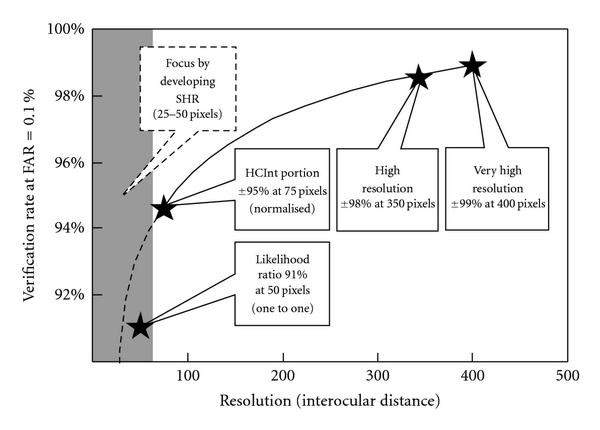 3.1.5. Landmark Methods for Comparison
We compared SHR to two landmark registration methods. The first method is the Viola and Jones detector [4] trained to find facial landmarks. The second method is called MLLL (Most Likely Landmark Locator) [10], which finds the landmarks by maximizing the likelihood ratio using PCA and LDA. This algorithm is run in combination with BILBO, which is a subspace-based method to correct for outliers. We have trained both methods on the FRGCv2 database and evaluated them using high-resolution images. Both the Viola-Jones and MLLL + BILBO find four landmarks (eyes, nose, and mouth). Based on the found landmarks, we calculate the Procrustes transformation to align the images.
3.2. Experimental Settings
In this section, we introduce the default experimental settings, unless other setting are explicitly mentioned, these settings are used in the experiments. We use the user-independent registration, with edge images as features and the downhill simplex search method to find the registration parameters. The number of subspace components is set to 300, which is a good compromise between speed and accuracy. For the edge images, we use kernels of

pixels with

, which, according to our observations, gives good results on several databases. The maximum expected offsets for scale, rotation and translation needed to create the initial simplex are respectively 0.2, 5 degrees and 5 pixels. The downhill simplex method can also find the optimal registration parameters outside the maximum expected offsets. The gradient-based search method is not limited in the registration parameter search either. In the case of user-independent registration, both gallery image and probe image are registered to the same user independent registration template (depicted in Figure
4
). The registration template is the mean face obtained from the training set. For user-specific registration, we register to a single gallery image. Our subspace model is based on registered facial images, therefore, we need a correctly registered template. Furthermore, face recognition methods assume that both gallery and probe images are correctly registered, making proper registration of the gallery image important for user-specific registration. To obtain a registered gallery image, we perform the user-independent registration with the mean face as registration template (see Figure
5
). Although in our experiments we use a single image as registration template, it is also possible to use multiple images to build a user-specific template. In this case, registration among gallery images can also be applied to improve the accuracy of the alignment of the gallery images.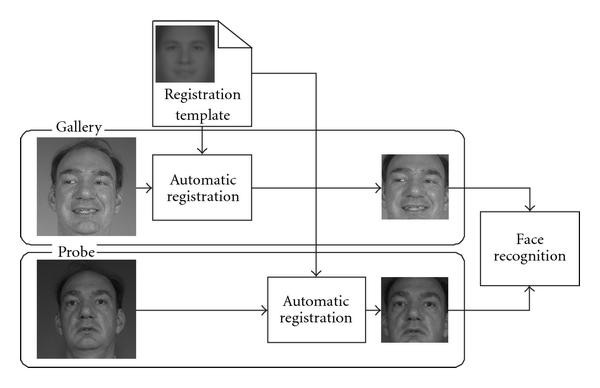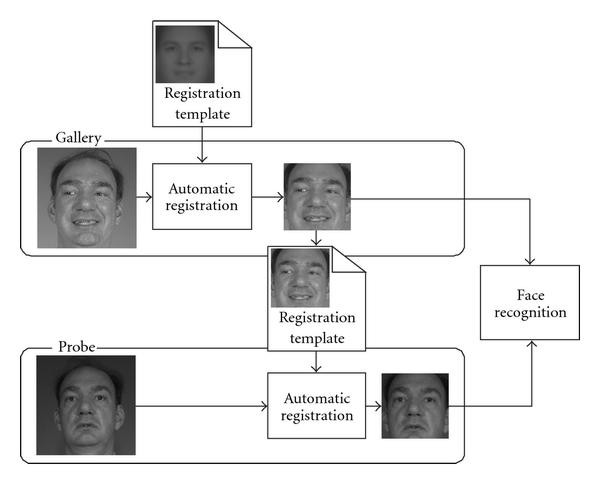 5. Conclusion
We presented a novel subspace-base holistic registration (SHR) method, which is developed to perform registration on low-resolution face images. In contrast to most landmark-based registration methods, which can only perform accurate registration on high resolutions. SHR is able to use a user-independent face model or a user-specific face model to register face images. For the user-specific registration, we defined two scenarios to register the gallery images. We show that by using edges as features for the registration, we obtain better results than using the grey levels of the image. The search for the best registration parameters is iterative, and we proposed two search methods, namely, the downhill simplex method and a gradient-based method.
To evaluate the face registration, we measured the effects it has on the results of face recognition. We used the FRGCv2 database to perform our face registration experiments. We compared SHR with two landmark-based registration methods, working on high resolution facial images. Nevertheless, the recognition results of SHR were better than those of the landmark-based methods. User-independent SHR gives a similar performance in face recognition results than registration with manually labelled landmarks. User-specific SHR performs better than the user-independent SHR and manual registration. One of the advantages over the landmark-based methods is that SHR is able to register low-resolution face images with an interocular distance as low as 25 pixels. The results at this resolution make SHR suitable for use in video surveillance.
Authors' Affiliations
(1)
Faculty of Electrical Engineering, Mathematics and Computer Science, University of Twente, Enschede, The Netherlands
Copyright
© B. J. Boom et al. 2010
This article is published under license to BioMed Central Ltd. This is an open access article distributed under the Creative Commons Attribution License, which permits unrestricted use, distribution, and reproduction in any medium, provided the original work is properly cited.