Research Article

Open Access
Stereoscopic Visual Attention-Based Regional Bit Allocation Optimization for Multiview Video Coding
EURASIP Journal on Advances in Signal Processing
2010
2010:848713
Received: 26 December 2009
Accepted: 18 June 2010
Published: 29 June 2010
Abstract
We propose a Stereoscopic Visual Attention- (SVA-) based regional bit allocation optimization for Multiview Video Coding (MVC) by the exploiting visual redundancies from human perceptions. We propose a novel SVA model, where multiple perceptual stimuli including depth, motion, intensity, color, and orientation contrast are utilized, to simulate the visual attention mechanisms of human visual system with stereoscopic perception. Then, a semantic region-of-interest (ROI) is extracted based on the saliency maps of SVA. Both objective and subjective evaluations of extracted ROIs indicated that the proposed SVA model based on ROI extraction scheme outperforms the schemes only using spatial or/and temporal visual attention clues. Finally, by using the extracted SVA-based ROIs, a regional bit allocation optimization scheme is presented to allocate more bits on SVA-based ROIs for high image quality and fewer bits on background regions for efficient compression purpose. Experimental results on MVC show that the proposed regional bit allocation algorithm can achieve over

% bit-rate saving while maintaining the subjective image quality. Meanwhile, the image quality of ROIs is improved by

 dB at the cost of insensitive image quality degradation of the background image.
Keywords
Background Region
Mean Opinion Score
Stereoscopic Video
Multiview Video
Visual Attention Model
1. Introduction
Three-Dimensional Video (3DV) provides Three-Dimensional (3D) depth impression and allows users to freely choose a view of a visual scene [1]. With these features, it would allow many multimedia applications, such as photorealistic rendering of 3D scenes, free viewpoint television [2], 3D television broadcasting, and 3D games, to introduce new and exciting features for users. Multiview video plus depth [3] supports high image quality and low complexity of rendering a continuum of output views. It has been the main representation of 3D scene and applied to many multiview multimedia applications. However, multiview video requires huge amount of storage and transmission bandwidth which are multiples of traditional monoview video. Thus, it is necessary to develop efficient Multiview Video Coding (MVC) algorithms for practical uses.
MVC had been studied on the basis of several video coding standards, including MPEG-2, MPEG-4, H.263, and H.264. Since the Moving Picture Experts Group (MPEG) had recognized the importance of MVC technologies, an Ad Hoc Group (AHG) on 3D Audio and Visual (3DAV) was established. The MPEG surveyed some MVC schemes, such as "Group-of-GOP prediction (GoGOP)", "sequential view prediction", and "checkerboard decomposition", [4]. Yea and Vetro proposed a view synthesis prediction-based MVC scheme for improving interview compression efficiency [5]. Yun et al. developed an efficient MVC algorithm which adaptively selects optimal prediction structure according to the spatiotemporal correlation of 3DV sequence [6]. Merkle et al. also proposed another MVC scheme using Hierarchical B Pictures (MVC-HBPs) and achieved superior compression efficiency and temporal scalability [7]. It has been adopted into MVC standardization draft by Joint Video Team (JVT) and used in the Joint Multiview Video Model (JMVM).
In many of the previous MVC schemes [4–7], intra, inter, and interview prediction compensation technologies are adopted to reduce spatial, temporal, and interview redundancies. Additionally, YUV color space transform, integer transform, and quantization technologies are also utilized to explore visual redundancies including chroma redundancies and high frequency redundancies. According to the studies on visual psychology, the Human Visual System (HVS) in fact does not treat visual information equally from regions to regions of the video content [8]. It is mentioned that HVS is more sensitive to the distortion in the Region-Of-Interests (ROIs) or attention areas than those in background regions [9]. Those are visual redundancies coming from regional interests existing in 3DV. However, previous MVC schemes have not taken the regional selective property and 3D depth perception of HVS into consideration. Applying the concept of ROI to video coding is regarded as a promising way to improve coding efficiency by exploiting regional visual redundancies. However, there are two major problems to be tackled, they are ROI detection and the ROI-based bits allocation.
For unsupervised ROI extraction, visual attention has been introduced as one of the key technologies in video/image system [10, 11]. Accordingly, many efforts have been devoted to researches on visual attention model [11–16] so as to simulate the visual attention mechanism of HVS accurately. Itti and Koch developed a bottom-up visual attention model [12] for still images based on Treisman's stimulus integration theory [13]. It generates saliency map with the integration of perceptual stimuli from intensity contrast, colour contrast, and orientation contrast. Zhai et al. used the low-level features as well as cognitive features, such as skin colour and captions, in their visual attention model [14]. Motion is another important cue for visual attention detection in video, thus, a bottom-up spatiotemporal visual attention model is proposed for video sequences in [15]. Wang et al. proposed segment-based video attention detection method [16]. Ma et al. also proposed a bottom-up and top-down combined visual attention model by integrating multiple features, including contrast in image, motion, face detection, audition, and text [11]. However, all these visual attention models were proposed either for static image or single view video and did not take stereoscopic or depth perception into account. On the other hand, stereoscopic parallax is not available in the single-view video.
From the video coding point of view, many bit allocation algorithms [17–24] are proposed for improving compression efficiency. Kaminsky et al. proposed a complexity-rate-distortion model to dynamically allocate bits with both complexity and distortion constraints [17]. Lu et al. proposed a Group-Of-Picture (GOP-)level bit allocation [18] scheme and Shen et al. proposed another frame-level bit allocation method which decreases the average standard deviation of video quality [19]. Özbek and Tekalp proposed a bit allocation among views for scalable multiview video coding [20]. All these bit allocation schemes improve the average Peak Signal-to-Noise Ratio (PSNR) but did not take the regional selective properties of HVS into account. Chen and Wang et al. proposed a bit allocation scheme that allocated more bits on ROI for MPEG-4 standard [21, 22]. These two schemes require very high ROI extraction accuracy. Chi et al. proposed an ROI video coding based on H.263+ for low bit-rate multimedia communications [23]. In the scheme, the ROI was extracted according to skin-color clue and a fuzzy logic controller was designed adaptively to adjust the quantization parameters for each macroblock (MB). Tang et al. proposed a bit allocation scheme for 2D video coding which is guided by visual sensitivity considering motion and texture structures [24]. However, these bit allocation schemes were proposed for single-view video coding and can not be directly applied to MVC because interview prediction is adopted in MVC.
In this paper, we propose a Stereoscopic Visual Attention-(SVA-) based regional bit allocation for improving MVC coding efficiency. We firstly present a framework of MVC in Section 2. In Section 3, we propose an SVA model to simulate visual attention mechanism of HVS. And then, SVA-based bit allocation optimization algorithm is proposed for MVC in Section 4. Section 5 presents the regional selective image quality metrics which are adopted in the coding performance evaluation. In Section 6, SVA-based ROI extraction and multiview video coding experiments are performed and evaluated with various multiview video test sequences. Finally, Section 7 gives conclusions.
2. Framework of Multiview Video System Using Regional Bit Allocation Optimization
Figure
1
shows a framework of MVC with regional bit allocation optimization. Firstly,
N
channels synchronized color videos are captured by parallel or arc arranged video capture system. Then,
N
synchronized depth videos, the same resolution as color image, are captured by depth camera array or generated by depth creation algorithms. By using depth video and multiview texture video, the SVA-based ROI extraction module efficiently extracts the semantic ROI mask for MVC codec. With the automatically extracted ROIs, MVC encoder is optimized for bit-rate saving in background region and better quality in ROI using regional bit allocation optimization. Finally, the compressed color and depth video bitstream are multiplexed and transmitted/stored. In the framework, the MB-wise ROI mask may not necessary to be transmitted to the client. Moreover, the framework is compatible with current block-based video coding standard and rate control, and low-level, such as macroblock level, syntax modification is not needed.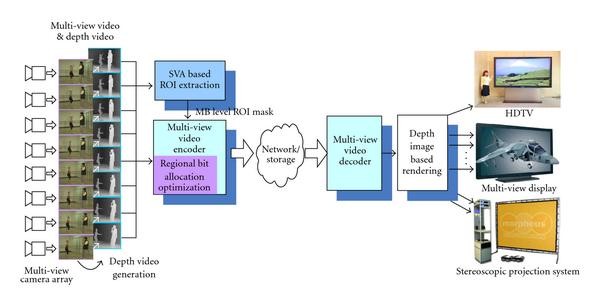 At the client side, the color and depth bitstream is de-multiplexed and decoded by the MVC decoder. With the decoded multiview color videos, depth videos as well as the transferred video cameras' parameters, view generation module renders a continuum of output views,

(

), through depth image-based rendering [25]. According to different types of display device, for example, HDTV, stereoscopic display, or multiview display, different number of views is displayed.
3. Stereoscopic Visual Attention-Based ROI Extraction
4. SVA-Based Regional Bit Allocation Optimization for MVC
where

and where

and

are the numbers of views and time instants in one GOP, i and j are temporal and interview position, respectively.

denotes the number of bits of encoding a frame at position (i, j) while its ROIs are coded with

and background regions are coded with

and

denote the QP differences between the ROI and the background regions, respectively.
where

and

.

indicates amplitude of bit-rate saving. Parameter T indicates the period that

reaches the point of no more gain can be saved as

QP increases.
where

is coefficient independent to

, and

is a negative value which indicates the slope of image quality degradation.

is a negative value and it will decrease as

increases to improve compression ratio.
where symbol "

" is floor operation. Meanwhile,

is truncated to 0 if

is smaller than 0. Coefficients A, T, and

are bQP dependent and will be modeled experimentally from MVC experiments presented in Section 6.3.
5. ROI-Based Objective Image Quality Assessment Metric
Pixelwise image quality assessment metric, such as PSNR, has been widely used for video quality evaluation. However, it does not match well with the human visual perception. Engelke et al. proposed a region-selective objective image quality metric [
34
] which is able to be combined with normalized hybrid image quality metric, reduced-reference image quality assessment technique, Structural SIMilarity (SSIM) [
35
], or PSNR measures. Since both SSIM and PSNR have been adopted in advanced video coding standard, H.264/AVC, we apply both the region-selective SSIM and PSNR metrics [
34
] to evaluate the proposed MVC scheme. The SSIM index [
34
] between two images is computed as
where
R
and
D
are two nonnegative image signals to be compared,

and

are the means of images
R
and
D
,

and

are standard deviation of images
R
and
D
, respectively, and

is covariance of images
R
and
D
,

and

are constants. The PSNR of illumination component (PSNR_Y) measures the fidelity difference of two image signals
I
R
(
x,y
) and
I
D
(
x,y
) on a pixel-by-pixel basis as
where Γ is the maximum pixel value, here it is 255.
The objective image quality metrics have been used to independently assess the image quality of ROI and background region to enable region-selective quality metric design. An ROI quality metric

is calculated on ROI of reference and distorted images. Similarly, background regions of reference and distorted images are used to assess quality of the background region by computing

. In a pooling stage,

and

are combined with a region-selective metric, and the final Predictive Mean Opinion Score (PMOS) is computed as follows [
34
]:
where

,

,

,

,

, and

are derived from the subjective quality evaluation experiments in [34]. In the following sections, PMOSs of PSNR_Y and SSIM are denoted by PMOS_PSNR and PMOS_SSIM, respectively.
6. Experimental Results and Analyses
In this section, the performance of SVA-based ROI extraction algorithms and SVA-based MVC are evaluated. Experiments include three steps. First, SVA-based ROI extraction experiments are performed and evaluated with subjective experiments. Secondly, regional bit allocation optimization experiments are performed for allocating reasonable mounts of bits among ROI and background regions and optimal

QP
is determined. Finally, MVC experiments are implemented to verify the efficiency of the SVA-based bit allocation optimization. In these experiments, we adopt seven typical multiview video sequences provided by Heinrich Hertz Institute (HHI) [
36
], Microsoft Research (MSR) [
37
], and Nagoya University [
38
]. These 3DV sequences are with different textures, motion properties, resolutions, capturing frame rates, and camera arrangements. Eight views of the test sequences are illustrated in Figure
6
. Table
1
shows the properties of the test multiview video sequences. Depth maps of Breakdancers and Ballet test sequences, marked as "A" in last column, are available. The depth maps of the rest videos, marked as "N/A", are generated by Depth Estimation Reference Software (DERS) [
39
].
Table 1
Parameters and Features of the Test Multiview Videos.
| 3DV | Provider | Image size | Frame rate | Baseline/camera array | Feature | Depth |
| --- | --- | --- | --- | --- | --- | --- |
| Ballet | MSR | | 15 fps | 20 cm/1D arc | Slow and fast motion | A |
| Breakdancers | | | 15 fps | 20 cm/1D arc | Slow and very fast motion | A |
| Doorflowers | HHI | | 16.7 fps | 6.5 cm /1D | Complex indoor scene, slow motion | N/A |
| Alt Moabit | | | 16.7 fps | 6.5 cm /1D | Outdoor scene and complex background | N/A |
| Dog | Nagoya Univ. | | 29.4 fps | 5 cm/1D | Large image size, slow motion | N/A |
| Pantomime | | | 29.4 fps | 5 cm/1D | Simple background | N/A |
| Champagne tower | | | 29.4 fps | 5 cm/1D | Simple background and very slow motion | N/A |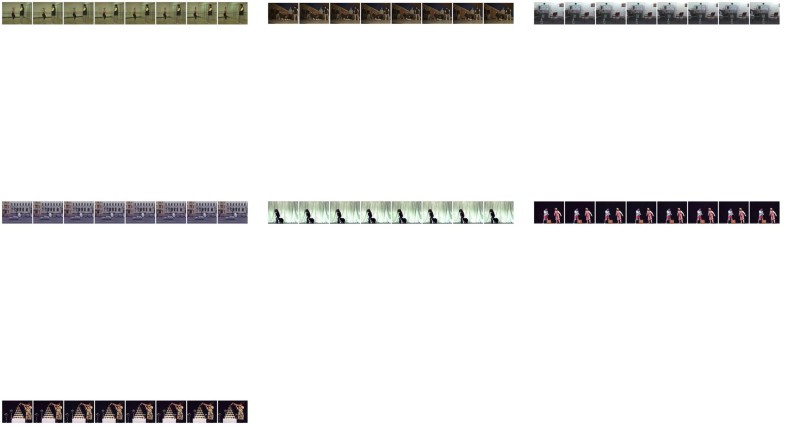 7. Conclusions
A stereoscopic visual attention- (SVA-) based regional bit allocation optimization scheme is proposed to improve the compression efficiency of MVC. We proposed a bottom-up SVA model to simulate the visual attention mechanisms of the human visual system with stereoscopic perception. This model adopts multiple low level perceptual stimuli, including color, intensity, orientation, motion, depth, and depth contrast. Then the semantic region-of-interest (ROI) is extracted based on the saliency maps of SVA. The proposed model is not only able to efficiently simulate stereoscopic visual attention of human eyes, but also can reduce noise in each stimulus channel. Based on the extracted semantic ROIs, a regional bit allocation optimization scheme is also proposed for high compression efficiency by exploiting visual redundancies. Experimental results on MVC showed that the proposed bit allocation algorithm can achieve over

bit-rate saving at high bit rate while maintaining the same objective image quality and subjective image qualities. Meanwhile, the image quality of ROIs is improved by

 dB at the cost of indiscriminate image quality degradation in background regions, which is less conspicuous and sensitive to human visual system. It can be foreseen that the stereoscopic visual attention will play a more important role in the areas such as content-oriented three-dimensional video processing, video retrieval, and computer vision in future.
Declarations
Acknowledgments
The Interactive Visual Media Group at Microsoft Research, HHI, and Nagoya University have kindly provided The authors with multiview video sequences and depth maps. Thanks are due to Dr. Sam Kwong for giving us many good suggestions and help. This work is supported by the Natural Science Foundation of China (Grant 60872094, 60832003), 863 Project of China (2009AA01Z327). It was also sponsored by K.C.Wong Magna Fund in Ningbo University.
Authors' Affiliations
(1)
Faculty of Information Science and Engineering, Ningbo University, Ningbo, China
(2)
Shenzhen Institute of Advanced Technology, Chinese Academy of Sciences, Shenzhen, China
(3)
Broadband Networks & Digital Media Lab, Tsinghua University, Beijing, China
Copyright
© Yun Zhang et al. 2010
This article is published under license to BioMed Central Ltd. This is an open access article distributed under the Creative Commons Attribution License, which permits unrestricted use, distribution, and reproduction in any medium, provided the original work is properly cited.