Research Article
Open Access
Vector-Sensor Array Processing for Polarization Parameters and DOA Estimation
EURASIP Journal on Advances in Signal Processing
2010
2010:850265
Received: 13 July 2009
Accepted: 2 May 2010
Published: 31 May 2010
Abstract
This paper presents a method allowing a complete characterization of wave signals received on a vector-sensor array. The proposed technique is based on wavefields separation processing and on estimation of fundamental waves attributes as the state of polarization state and the direction of arrival. Estimation of these attributes is an important step in data processing for a wide range of applications where vector sensor antennas technology is involved such as seismic processing, electromagnetic fields studies, and telecommunications. Compared to the classic techniques, the proposed method is based on computation of multicomponent wideband spectral matrices which enable to take into account all information given by the vector sensor array structures and thus provide a complete characterization of a larger number of sources.
Keywords
Polarization ParameterSignal SubspaceSteering VectorUniform Linear ArrayNoise Subspace
1. Introduction
Over the past decade, the use of vector-sensor array (VSA) technology for source localization has significantly increased allowing a better characterization of the recorded phenomena in a wide range of applications (e.g., acoustics, electromagnetism, radar, sonar, geophysics, etc.) [1–5]. For instance in seismic acquisition case, vector sensors are nowadays widely used, allowing a better characterization of the layers thanks to the state of polarization dimension added to detection process. With a vector sensor, we can have access to the particle-displacement vector that describes the particle motion in 3D at a given point in space. As the state of polarization is wavefield dependent, it can be used as an essential attribute to separate waves in addition to their different DOAs. To resume, multicomponent acquisitions provide more detailed information on the recorded wavefield and VSA-recorded signals allow the estimation of the directions of arrival (DOA) and the polarizations of multiple waves (or sources) impinging the array. In the case of elastic and acoustic seismic surveys, the VSA-recorded signals are a mixture of various wave types (body waves, surface waves, converted waves, multiples, noise, etc.). Combined multicomponent acquisition and multicomponent processing and analysis provide better wave characterizations and enhance the imaging resolution of geological features. In order to perform the characterization of each wave, separation of interfering wavefields is a crucial step. In the case of multicomponent sensor arrays, methods of filtering, of source localization, and of polarization estimation have already been developed for acoustics and electromagnetic sources. In the last decade, many array processing techniques for source localization and polarization estimation using vector sensors have been developed, mainly in electromagnetics. Nehorai and Paldi [1] proposed the Cramer-Rao bound and the vector cross-product DOA. Li and Compton Jr [3] developed the ESPRIT algorithm for a vector-sensor array. MUSIC-based algorithms were also proposed by Wong and Zoltowski [6–8], who also developed vector-sensors versions of ESPRIT [9–13]. These approaches represent a highly popular subspace-based parameter estimation method and use matrix techniques directly derived from scalar-sensor array processing. Such a method is based on the long-vector approach, consisting in the concatenation of all components of the vector-sensor array in a long vector [9].
The originality of our method consists in keeping multidimensional structures of data organization for processing. These structures are more adapted to the nature of seismic polarized signals, allowing data organization closer to its multimodal intrinsic structure. This paper presents a novel subspace separation method performing wavefields separation. This method issued from the Multicomponent Wideband Spectral Matrix Filtering (MWSMF) technique [14, 15] is a subspace separation algorithm derived from the classic spectral matrix filtering presented in [16, 17]. After a separation step where each wavefield has been isolated, we propose polarization and DOA estimations for each separated wavefield that takes all frequencies and all components into account. The algorithm treats the various components as a whole rather than individually. In Section 2, we summarize the noise filtering and wavefields separation principles. In Sections 3 and 4, we present the technique using the estimated multicomponent wideband spectral matrices of sources leading to the estimations of the polarization and of the DOA parameters for each wavefield. Finally in Section 5, we present the performances of the algorithm on several simulated 2C-datasets.
2. Noise Filtering and Wavefield Separation
In this section, the proposed subspace separation technique based on Multicomponent Wideband Spectral Matrix Filtering (MWSMF) is briefly explained (for more details, the reader might refer to [14, 15]).
2.1. Model Formulation and Hypothesis
where

characterizes the apparent wave velocity and

the distance between two adjacent sensors.
In case of multicomponent acquisition with vector sensor array, seismic data depend on three parameters: time (

samples), distance (

sensors), and number of components (

components). These components, recording signals in three directions as

(for in-line axis),

(for cross-line axis), and

for vertical axis, allow to express the state of polarization of the different wavefields.
where

and

are, respectively, the amplitude ratio and the phase-shift between components

and

characterizing polarization parameters for a source

.
2.2. Estimation of the Multicomponent Wideband Spectral Matrix
Relations between components and sensors are expressed in the calculation of the Multicomponent Wideband Spectral Matrix (MWSM)

of

as
with

the expectation operator and

the transpose conjugate operation.
To avoid the fact that

is noninvertible (not full rank) and to decorrelate sources from noise and from themselves, we perform smoothing operators to estimate the matrix

. This step is crucial since the effectiveness of filtering depends on this estimation. In practice, mathematical expectation operator

is an averaging operation, like spatial or frequential smoothing or both of them [19–22]. Objective of these averaging operations is to reduce the influence of terms corresponding to the interactions between different sources in order to uncorrelate them, and to uncorrelate sources and noise, making the inversion of the spectral matrix possible. The spatial smoothing could be done by averaging spatial sub-bands. The uniform linear array with

sensors is subdivided into overlapping subarrays in order to have several identical arrays, which will be used to estimate spectral matrices in order to build a smoothed matrix. Shan et al. [21] have proven that if the number of subarrays is greater than or equal to the number of sources Nw, then the spectral matrix of the sources is nonsingular. However, one assumption is that the wave does not vary rapidly over the number of sensors used in the average, in particular, amplitude fluctuations must be smoothed out. To introduce frequency smoothing, two ways can be performed: either by weighting the autocorrelation and cross-correlation functions (in the time domain) or by averaging frequential sub-bands (in the frequential domain). For a better estimation of the multicomponent wideband spectral matrix, it is suitable to realize jointly spatial and frequential smoothing. For more details on averaging operators, we suggest to read [14].
The multicomponent wideband spectral matrix

is a matrix of dimension

. The structure of

is presented diagrammatically on Figure
1
.

and

correspond to the single-component wideband spectral matrix for

and

components, respectively. These terms are located on the main diagonal of

. The other blocks correspond to the cross-component spectral matrices which contain information relating to the interaction between the components and especially information on polarization. The results obtained by multicomponent wideband matrix filtering are better than the ones obtained applying classical filtering methods on each components for the reason that the former contains more information on the signal especially on polarization Since the multicomponent wideband matrix filtering provides more information on the signal and especially on polarization, better filtering results are obtained rather than results based on classical filtering methods used independently on each component.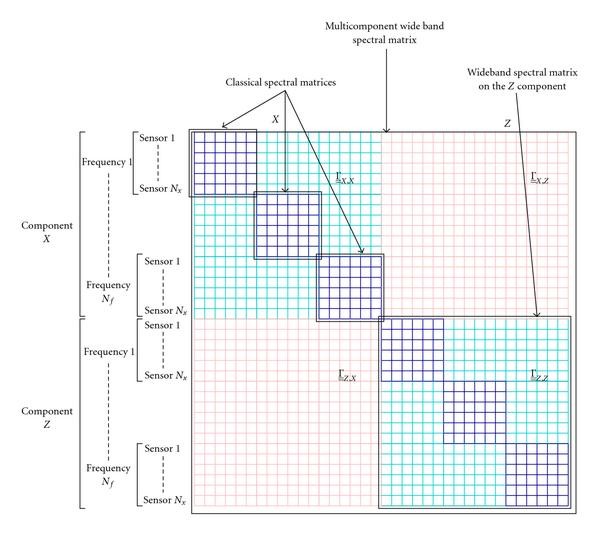 2.3. Estimation of Signal Subspace
2.4. Filtering by Projection onto the Signal Subspace
The filtering step corresponds to an orthogonal projection of the initial data

onto the first

eigenvectors corresponding to the signal subspace:
The final steps consist of rearranging the long-vectors

and

in its initial form and computing an inverse Fourier transform in order to come back to the time-distance-component domain.
3. Polarization Estimation
3.1. Introduction
After presenting the separation processing part, we propose to find polarization parameters on each separated wavefield. State of polarization analysis is based on the computation of parameters describing the particle movement associated with wave propagation. That movement of the ground induced useful parameters which were first identified by Jolly in 1956 [27], whereas the first attempt to measure this movement was done by Shimshoni and Smith in 1964 [28]. They introduced a successful method of polarization analysis for earthquake data. Many other algorithms were developed subsequently for seismic exploration applications [29–31]. One of the most effective and stable approaches in this regards is the algorithm developed by Flinn [32, 33] using the covariance matrix of the data. In the following part, we compare our proposed method (based on MWSM) with Flinn's algorithm.
3.3. Comparison between Flinn's Method and Proposed Method Based on MWSM
MWSM's and Flinn's methods are two different approaches for polarization analysis. Flinn's method uses a covariance matrix and proposes a temporal approach on a single trace whereas our proposed method is a frequential approach which can either be on a single trace or on the whole array. In the case studied here, the waves' state of polarization can be considered as constant over distance. Consequently, for a given wave, we can estimate the amplitude ratio and phase shift between the components by carrying out an averaging of the parameters found on each sensor.
To compare Flinn's and our method and to illustrate polarization estimation, we consider the trivial case of a single wave with infinite velocity, received on a 2C-sensors array, whose phase shift

(= 0.4 rad) and amplitude ratio

(= 0.8) are constant over the array.
Figures
3
and
4
correspond respectively to the Mean Absolute Error (MAE) between the theoretical and the estimated values of phase shift and amplitude ratio for various signal-to-noise ratio (SNR) from

10 dB to 15 dB. The average is done for 500 noisy realizations.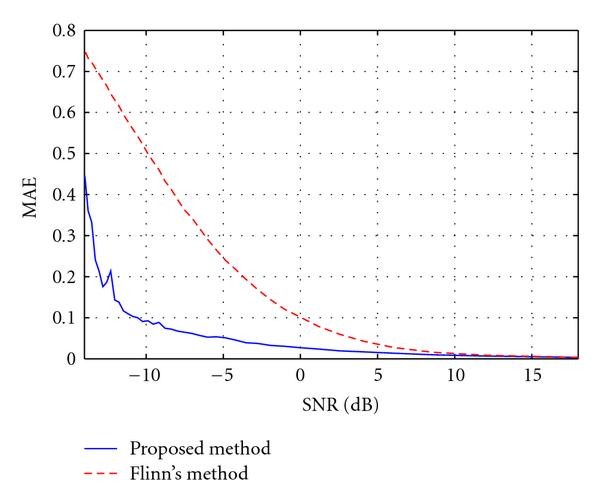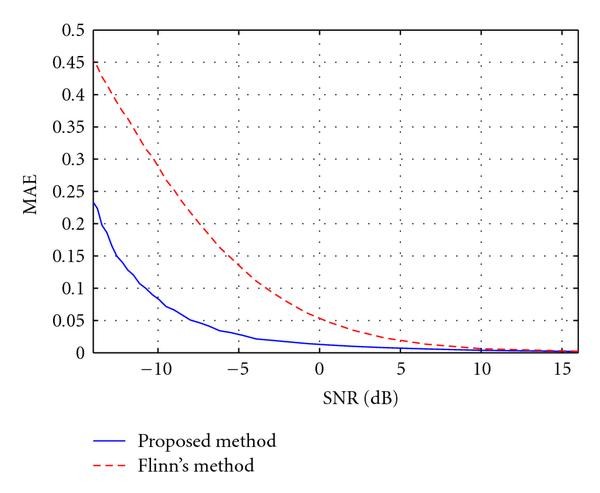 These figures show that for both methods, polarization analysis is very sensitive to noise and thus the estimates are better when SNR increases. We can notice that our MWSM-based method always gives better estimation than the Flinn's method for small SNR.
4. Direction-of-Arrival Estimation
4.1. Proposed Method
Just as we did for polarization state estimation, we propose a DOA estimation method based on the structure of Multicomponent Wideband Spectral Matrix. We call it MW-MUSIC for Multicomponent Wideband-MUSIC as it is an extension of the MUSIC (MUltiple SIgnal Classification) algorithm [34–37]. This method is an extension of the MUSIC algorithm for vector-sensor arrays called LV-MUSIC for Long-Vector MUSIC [1]. The first extensions of MUSIC algorithm to polarized sources were made by Schmidt [34], Ferrara and Parks [38], Wong and Zoltowski [6, 8], and Wong et al. [13]. Algorithms to estimate DOAs of polarized sources in electromagnetism were also proposed in [1, 39, 40]. Our proposed method has the advantage of being able to compute both DOA and offset.
with

, being the propagation vector corresponding to the wave

. Thereafter, we note

, the matrix corresponding to the projection on noise subspace.
The functional allows local maxima for a set of values

and

. We use the fact that two parameters

have been already found by the method proposed on Section 3. After this stage, the functional only depends on two parameters,

the direction of arrival and

the offset, and it will give maximum for values of

corresponding to the sources present in the signal. It is clear that processing will work with lot of efficiency in case of far field sources (waves can be considered as locally plane).
4.2. Study of Estimator Variance
In this part, we compare variances of various estimators: MUSIC, LV-MUSIC and MW-MUSIC. Mean Square Error (MSE) for DOA estimation is presented for various SNRs (Figure
5
). Each point corresponds to an average over 200 realizations. In this case under study, a polarized source is received on an array of 30 2C-sensors. The DOA of the source, expressed in terms of samples of delay between two sensors, is 1 sample. A white Gaussian noise is added to the signal with a SNR from

18 dB to 0 dB. For classical MUSIC algorithm which operates only on one component, we carry out an average of the results obtained from the two components. Figure
5
shows clearly that when we take into account the polarization information and frequential coherency given by the MWSM's structure, statistical performances of the estimator are improved. This induces that MW-MUSIC gives better results rather than Classical-MUSIC algorithm.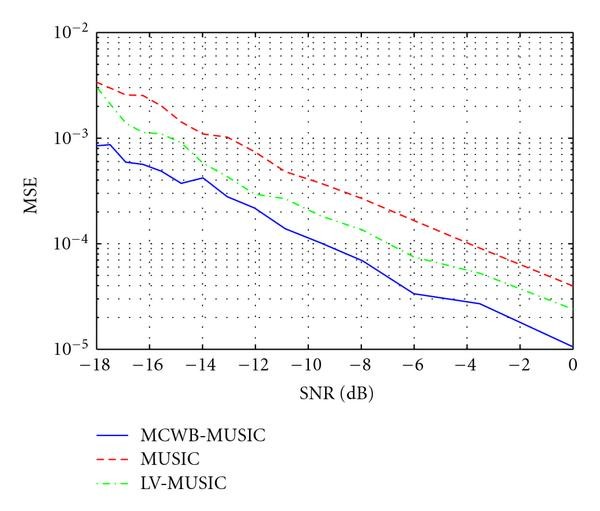 5. Synthetic Examples
Proposed method consisting of wavefield separation followed by polarization and DOA estimation steps is applied on a 2-Components synthetic seismic profile to validate the efficiency of the method. Figure
6
plots two waves received on an array of 24 2C-sensors superimposed by a white gaussian noise (SNR = 4

dB). The fastest wave, (called
wave 1
) has a linear polarization parameter (

and

) and the slowest wave (called
wave 2
) is characterized by an elliptic polarization (

and

).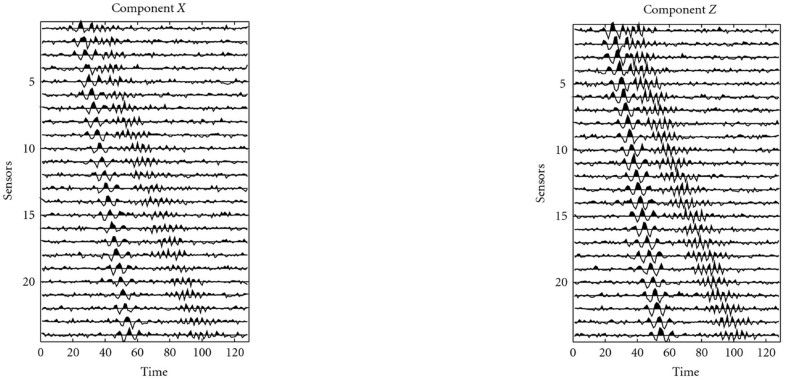 6. Conclusion
A novel method providing wavefields separation along with an estimation of both the polarization parameters and the directions of arrival was presented. Taking into account the polarization and the widebandness of the signal leads to a better characterization of a greater number of waves (

) as opposed to the monocomponent array case (

). The performance and efficiency of the method was proven using several simulations. Comparison of the wideband matrix filtering method with those of the classic filtering technique has already been done [15] and gave encouraging result for wideband case. We also obtained promising results for DAO estimation using the proposed method which can be attributed to the fact that our method takes into account the entire frequency information and is therefore insensitive to frequency band selection.
Declarations
Acknowledgments
The authors would like to thank reviewers for interesting remarks and A. A. Khan for improving the language.
Authors' Affiliations
(1)
Département Images Signal, GIPSA-Lab, Saint Martin d'Hères Cedex, France
Copyright
© C. Paulus and J. I. Mars. 2010
This article is published under license to BioMed Central Ltd. This is an open access article distributed under the Creative Commons Attribution License, which permits unrestricted use, distribution, and reproduction in any medium, provided the original work is properly cited.