Research Article

Open Access
Estimating Watermarking Capacity in Gray Scale Images Based on Image Complexity
EURASIP Journal on Advances in Signal Processing
2010
2010:851920
Received: 14 September 2009
Accepted: 25 January 2010
Published: 8 April 2010
Abstract
Capacity is one of the most important parameters in image watermarking. Different works have been done on this subject with different assumptions on image and communication channel. However, there is not a global agreement to estimate watermarking capacity. In this paper, we suggest a method to find the capacity of images based on their complexities. We propose a new method to estimate image complexity based on the concept of Region Of Interest (ROI). Our experiments on 2000 images showed that the proposed measure has the best adoption with watermarking capacity in comparison with other complexity measures. In addition, we propose a new method to calculate capacity using proposed image complexity measure. Our proposed capacity estimation method shows better robustness and image quality in comparison with recent works in this field.
Keywords
Fractal Dimension
Complexity Measure
Watermark Image
Host Image
Image Complexity
1. Introduction
Determining the capacity of watermark in a digital image means finding how much information can be hidden in image without perceptible distortion, while maintaining watermark robustness against usual signal processing manipulation and attacks. Knowing the watermark capacity of an image is useful to select a watermark with a size near the capacity or in order to improve the robustness, we can repeat embedding a smaller size watermark until reaching the capacity. Usually capacity is expressed in bits per pixel (bpp) unit which is the mean capacity of image pixels for watermark embedding. Image quality assessment measures like PSNR (Peak Signal to Noise Ratio), SSIM (Structural Similarity Index Measure), and JND (Just Noticeable Difference) are used for estimating quality degradation after watermark embedding. One of the most popular measures for watermark robustness is Bit Error Rate (BER), which is the percentage of error bits in extracted watermark.
However, calculating watermark capacity in images is a complex problem, because it is influenced by many factors. Generally, there are three parameters in watermarking that have the most important role: capacity, quality, and robustness. These parameters are not independent and have side effect on each other. For example, increasing the watermark robustness by repeating the watermark bits decreases the image quality, or enhancement in quality is achieved by decreasing the capacity and vice versa.
Recently, some works for calculating watermark capacity are reported in the literature. Moulin used the concept of information hiding to calculate the capacity by considering watermarking as an information channel between transmitter and receiver [1, 2]. Barni et al. in [3, 4] introduced methods for capacity estimation based on DCT. Voloshynovisky introduced Noise Visibility Function (NVF) which estimates the allowable invisible distortion in each pixel according to its neighbor's values [5, 6]. Zhang et al. in [7–9] and authors in [10, 11] showed how to use heuristic methods to determine the capacity. In addition, some works are reported in coding system and codebooks to reduce distortion in the watermarked image [12, 13]. We shall note that these methods use different approaches to find the capacity, and the estimated capacity values have a diverged range from 0.002 bpp (bits per pixel) to 1.3 bpp [9].
Some approaches pay more attention to model the communication channel and attacks than the image content. We cannot neglect the fact that image content, represented here by the term image complexity, plays a very important role in capacity. This encouraged us to find the relation between complexity (image content) and capacity. This relation will help us to understand the role of image content in capacity estimation and can provide new aspects in watermarking capacity beyond the limitation of information theory which generally focuses on communication channel.
In this paper, we analyzed the relation between image complexity and watermarking capacity. In this regard, we studied the most important existing measures for image complexity and found the relation between capacity and complexity. In addition, we proposed a new complexity measure based on Region Of Interest (ROI) concept. Experimental results show that our proposed method gives better capacity estimation according to image quality degradation and watermark robustness.
The rest of paper is organized as follows. In Section 2, we discuss about complexity measures and the existing methods in image complexity and introduce a new complexity measure based on the ROI concept. In Section 3, we show how to find the best measure for complexity estimation according to quality degradation in watermarking. Section 4 is dedicated to calculate the watermark capacity based on image complexity. Finally conclusion is presented in Section 5.
2. Complexity Measures
There are a wide variety of definitions for image complexity depending on its application. For example, in [14], image complexity is related to the number of objects and segments in image. Some works have related image complexity to entropy of image intensity [15]. In [16], complexity has been considered as a subjective characteristic that is represented by a fuzzy interpretation of edges in an image. In addition, there are some new definitions of image complexity but these approaches are highly application dependent [17, 18].
These definitions clarify that there are different approaches for calculating image complexity depending on the application. Since each definition, based on either subjective or objective characteristics of the input image, uses a distinct measurement or calculation algorithm, therefore, there is not any agreement on image complexity definition.
Although there is not a unique method for image complexity calculation, but there is a global agreement in classifying images by complexity. Figure
1
shows nine images with different complexities or details. These images are used in our experiments.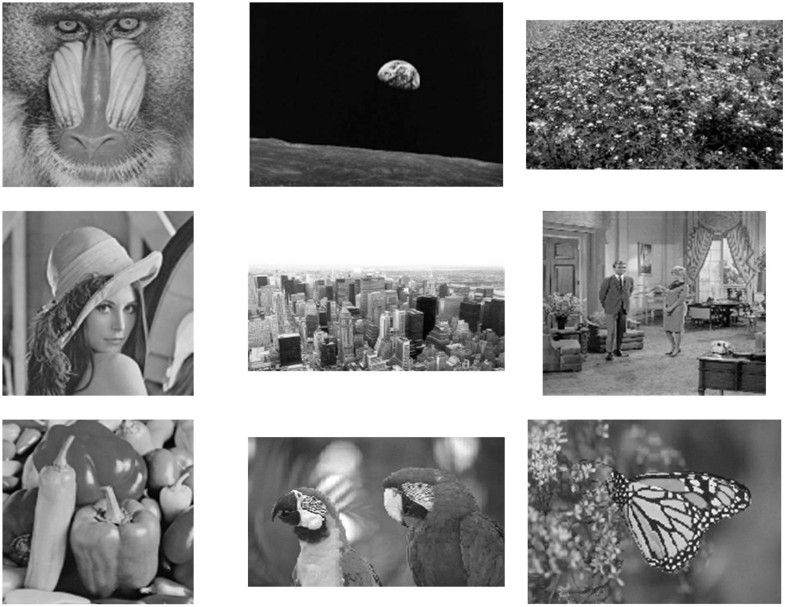 In the next section, we describe briefly four measures for calculating image complexity: Image Compositional Complexity (ICC) and Fractal Dimension (FD) that are used in general applications in image processing and Quad Tree method. In addition we introduced a new complexity measure named ROI that showed to be more reliable measure to estimate the watermarking capacity.
3. Image Complexity and Quality Degradation
In this section, we use three famous watermarking algorithms which work in different domains for finding the relation between complexity measures and watermarking artifacts on images. These algorithms are amplitude modulation [29] in spatial domain, Cox method in DCT domain [30], and Kundur algorithm in wavelet domain [31]. For simplicity, we will refer to these algorithms as Spatial, DCT, and Wavelet in the rest of this paper.
We use 2000 images with different resolutions and sizes from the Corel database and calculated the complexity measure of each image using the four measures discussed in Section 2. Then we watermark each image using three mentioned watermarking methods (Spatial, DCT, and Wavelet). To compare the visual quality of host image and watermarked image, we use the SSIM (Structural Similarity Index Measure) [32] and Watson JND (Just Noticeable Difference) [33] measures that are two state-of-the-art image quality assessment measures. These measures consider the structural similarity between images as human visual system and provide better results compared to the traditional methods such as PSNR (Peak Signal to Noise Ratio) [34].
In our experiment, we use a watermark pattern with 256 bits (a usual watermark size) in all three watermarking methods. To compare the results, Figures
3
–
10
show the relation between each complexity measure and the visual quality degradation measures (SSIM and JND) averaged on 2000 images mentioned before.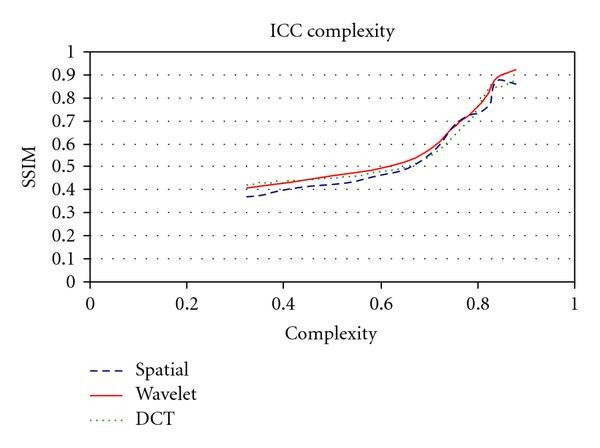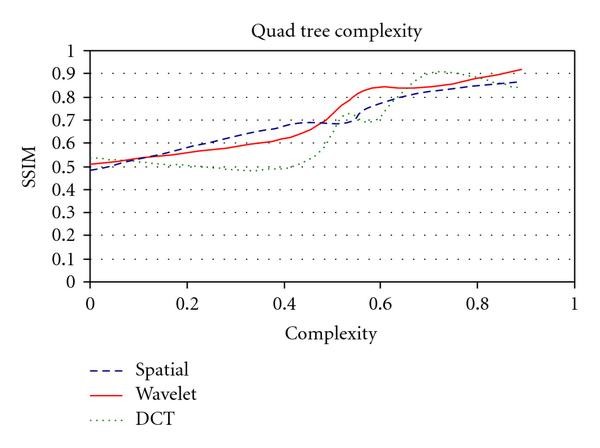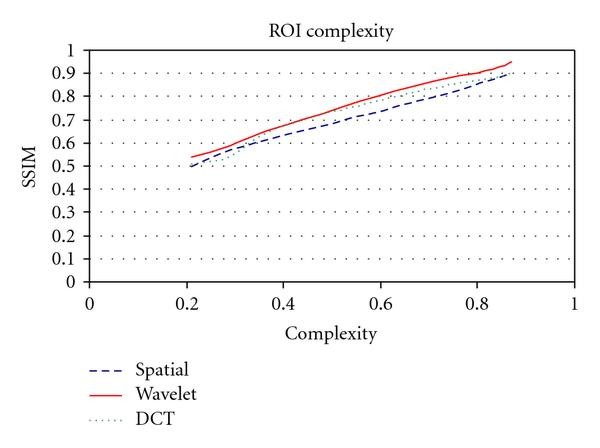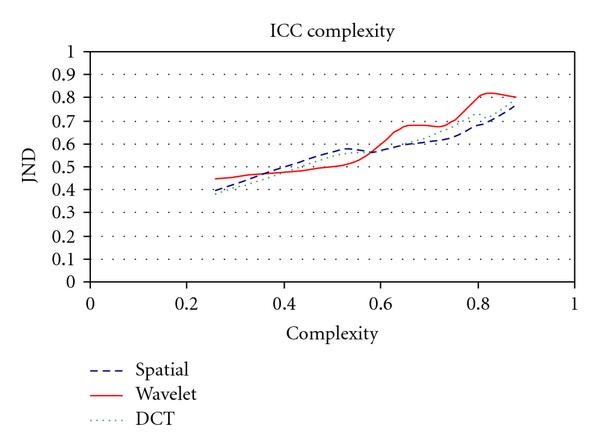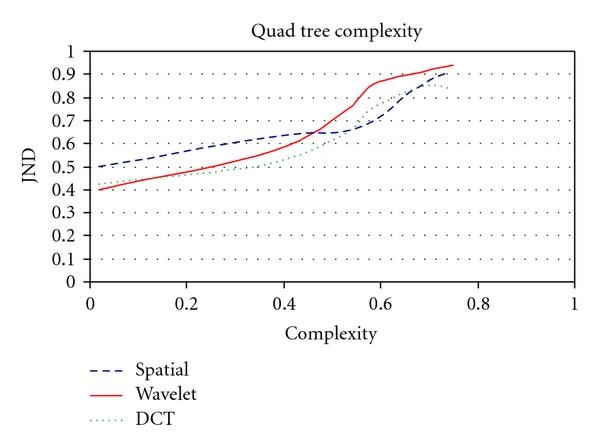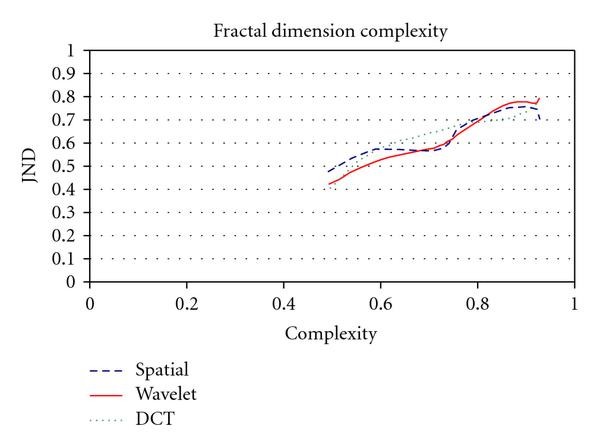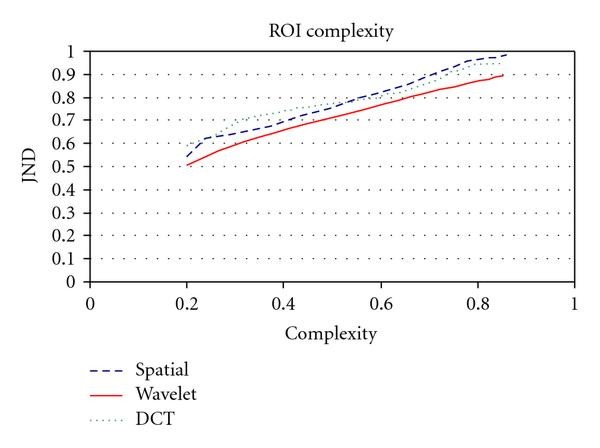 However, we must emphasis that in this section no watermarked image is degraded by any manipulation (attacks). Therefore, we can extract all bits of watermark without error, which means that the Bit Error Rate (BER) is zero. We will discuss about the robustness of proposed method in more detail in Section 4.
The relation between image quality degradation and complexity after watermark embedding is shown in Figures 3–10 using the four different complexity measures.
In the following we describe the results of Figures
3
–
10
in detail.
(a)

In Figures 3–10, a simple relation between image complexity and visual quality can be understood. That is, when complexity of an image is higher, then the visual quality of watermarked image is higher too (e.g. higher SSIM or JND). This shows that complex images have higher capacity for watermarking.

(b)

In ICC, Quad tree and Fractal dimension methods (Figures 3, 4, 5, 7, 8, and 9), there are some irregularities or nonlinear relation between complexity and visual quality measures, but the ROI measure can give better estimation on capacity because as seen in Figures 6 and 10, the curves have a straight linear shape. For better comparison of different methods, we calculate the correlation coefficient between each complexity measures and quality degradation in different watermarking methods (achieved from 2000 images). The result is presented in Table 2. As it is seen the correlation coefficient of ROI method is much better than other measures. This means that the ROI complexity measure has a very close to linear relation with watermarking capacity as its correlation coefficient is 0.92. So we can estimate the quality degradation with ROI measure much better than other methods.
Table 2
The correlation coefficient between complexity measures (ICC, Quad tree, Fractal Dimension (FD) and ROI) and image quality measures (SSIM and JND) according to different watermarking methods (Spatial, DCT and Wavelet).
Complexity

SSIM

JND

Mean

measure

Spatial

DCT

Wavelet

Spatial

DCT

Wavelet

ICC

0.80

0.81

0.83

0.75

0.85

0.81

0.81

Quad tree

0.74

0.76

0.81

0.82

0.78

0.82

0.79

FD

0.81

0.81

0.90

0.79

0.84

0.81

0.83

ROI

0.93

0.94

0.92

0.89

0.91

0.94

0.92
(c)

Wavelet method shows a better match with quad tree measure. This is concluded because of more regularity in its curve compared to curves related to Spatial and DCT as shown in Figure 4. This is a logical fact, because the complexity measure based on Quad tree uses similar concept of dividing an image into 4 blocks as used in multiscale watermarking methods such as wavelet.
4. Capacity Estimation
Finally for calculating image capacity, we consider watermarking as communication channel with side information [2]. Briefly, in this approach, watermarking is a form of communications. The requirement that the fidelity of the media content must not be impaired implies that the magnitude of the watermark signal must be very small in comparison to the content signal, analogous to power constraint in traditional communications. This characteristic of watermark detection and considering the content (host image) as noise has led us to think of watermarking as a form of communications. But when the media content is considered as noise, no advantage is taken of the fact that the content is completely known to the watermark embedder.
Therefore, it is better to consider watermarking as an example of communication with side information. This form of communication was introduced by Shannon who was interested in calculating the capacity of a channel. Modeling watermarking as a communication with side information allows more effective watermarking algorithms to be designed and originally introduced in [2].
Although the capacity values estimated by Zhang are higher than our method, but in the following we show that our method gives a more precise limit for the capacity.
To compare the preciseness of capacity estimation of Zhang and our method; according to watermark robustness against noise, we watermarked 2000 images in Spatial, Wavelet, and DCT domains using 10 random watermarks with different sizes (64, 128, 256, 1024, and 2048 bits). This process provides 20,000 watermarked images. Note that in all of the watermarked images the quality is acceptable due to SSIM, JND, and PSNR. We calculated the Bit Error Rate (BER) of our proposed method by applying Gaussian noise with different variances and compared the results with that of Zhang method (as reported in [9]).
5. Conclusion
Determining the capacity of watermark in a digital image means finding how much information can be hidden in the image without perceptible distortion and acceptable watermark robustness. In this paper, we introduced a new method for calculating watermark capacity based on image complexity. Although a few researchers have studied image complexity independently, in this paper we proposed a new method for estimating image complexity based on the concept of Region Of Interest (ROI) and used it to calculate watermarking capacity. For this purpose, we analyzed the relation between watermarking capacity and different complexity measures such as ICC, Quad tree, Fractal dimension, and ROI. We calculated the degradation of images with SSIM and JND quality measures with different watermarking algorithms in spatial, wavelet and, DCT domains.
Our experimental results showed that using the ROI measure to calculate the complexity provides more accurate estimation for watermark capacity. In addition, we proposed a method to calculate the capacity in bits per pixel unit according to the complexity of images by considering image watermarking as a communication channel with side information.
The experimental results show that our capacity estimation measure improves the watermark robustness and image quality in comparison with the most recent similar works.
Declarations
Acknowledgment
This research was financially supported by Iran Telecommunication Research Center (ITRC), as a Ph.D. thesis support program.
Authors' Affiliations
(1)
Department of Computer Engineering, Sharif University of Technology, Tehran, Iran
Copyright
© F. Yaghmaee and M. Jamzad. 2010
This article is published under license to BioMed Central Ltd. This is an open access article distributed under the Creative Commons Attribution License, which permits unrestricted use, distribution, and reproduction in any medium, provided the original work is properly cited.