Research Article

Open Access
Evaluation of a Validation Method for MR Imaging-Based Motion Tracking Using Image Simulation
EURASIP Journal on Advances in Signal Processing
2009
2010:942131
Received: 1 May 2009
Accepted: 20 July 2009
Published: 13 September 2009
Abstract
Magnetic Resonance (MR) imaging-based motion and deformation tracking techniques combined with finite element (FE) analysis are a powerful method for soft tissue constitutive model parameter identification. However, deriving deformation data from MR images is complex and generally requires validation. In this paper a validation method is presented based on a silicone gel phantom containing contrasting spherical markers. Tracking of these markers provides a direct measure of deformation. Validation of in vivo medical imaging techniques is often challenging due to the lack of appropriate reference data and the validation method may lack an appropriate reference. This paper evaluates a validation method using simulated MR image data. This provided an appropriate reference and allowed different error sources to be studied independently and allowed evaluation of the method for various signal-to-noise ratios (SNRs). The geometric bias error was between 0–

voxels while the noisy magnitude MR image simulations demonstrated errors under 0.1161 voxels (SNR: 5–35).
Keywords
Probability Density FunctionMarker TrackingHuman Soft TissueInverse Finite Element AnalysisGeometric Bias
1. Introduction
The body responds to mechanical loading on several timescales (e.g., [1, 2]), but in vivo measurement of critical parameters such as muscle load, joint reaction force, and tissue stress/strain is usually not possible [3, 4]. In contrast, suitably validated computational models can predict all of these parameters, and they are therefore a powerful tool for understanding the musculoskeletal system [4, 5] and are in use in diverse applications from impact biomechanics [6, 7] to rehabilitation engineering [8, 9], surgical simulation [10, 11], and soft tissue drug transport [12].
Skeletal muscle tissue in compression is nonlinear elastic, anisotropic, and viscoelastic, and a constitutive model with very good predictive capabilities for in vitro porcine muscle has been proposed [13, 14]. However, validating this model for living human tissue presents significant difficulties. Some authors have used indentation tests on skeletal muscle [15, 16], but the tissue was then assumed to be isotropic and linear in elastic and viscoelastic properties. In contrast, noninvasive imaging methods that allow detailed measurement of human soft tissue motion and deformation (due to known loading conditions) combined with inverse finite element (FE) analysis allow for the evaluation of more complex constitutive models.
The work presented here is part of a study aiming to use indentation tests on the human arm, tagged Magnetic Resonance (MR) imaging and inverse FE analysis to determine the mechanical properties of passive living human skeletal muscle tissue using the constitutive model described in [13, 14].
Recently the potential of using surface deformation measurements from 3D digital image correlation to assess mechanical states throughout the bulk of a tissue has been shown [17]. However MR imaging combined with deformation tracking techniques can provide 3D deformation data throughout the tissue volume and is ideal for the evaluation of constitutive models such as [13, 14]. MR imaging has been used to study skin [18], heart [19], and recently also rat skeletal muscle [20] (though a simplified Neo-Hookean model was applied).
The techniques for tracking tissue deformation from (e.g., tagged) MR imaging are complex and require validation using an independent measure of deformation. Since physically implanting markers is not feasible and anatomic landmarks are either absent or difficult to track, alternative methods have been employed. Young et al. [21] recorded angular displacement of a silicone gel phantom using tagged MR images and evaluated the results using FE modelling and 2D surface deformation derived from optical tracking of lines painted on the phantom surface. Similarly, Moore et al. [22] used optical tracking of surface lines on a silicone rubber phantom to validate MR-based deformation measures. However simple tensile stretch was applied and only a 2D measure of surface deformation was used. There were also temporal synchronisation issues between the optical and MR image data. In both of the optical validations studies above the error related to the optical tracking method was not quantified. Other authors have used implantable markers. For instance Yeon et al. [23] used implanted crystals and sonomicrometric measurements for validation of tagged MR imaging of the canine heart. However the locations of the crystals were verified manually by mapping with respect to surface cardiac landmarks in the excised heart and matching problems between MR and sonomicrometric measurements occurred. Neu et al. [24, 25] evaluated a tagged MR imaging-based deformation tracking technique for cartilage using spherical marker tracking in a silicone soft tissue phantom. However the marker centres were determined by manually fitting a circle to each marker in two orthogonal directions and imaging was performed on excised tissue samples at high resolution (over 32 voxels across marker diameter) using a nonclinical 7.05T scanner.
This paper shows that validation of in vivo medical imaging techniques and image processing algorithms is challenging partially due to the lack of appropriate reference data. Although experimental validation methods using soft tissue MR imaging phantoms can be developed, the data derived from these often suffers uncertainties similar to those present in the target soft tissue. Therefore the validation method itself often lacks an appropriate reference. In this paper a novel technique for the validation of a 3D MR imaging-based motion and deformation tracking technique, applicable to 3D deformation, is presented. The validation method, based on marker tracking, was evaluated (and validated) using simulated magnitude MR image data because this allows full control and knowledge of marker locations and thus provides the final real "gold standard.'' It addition this allows for the independent analysis of geometric bias and of method performance across a wide range of realistic noise conditions.
3. Results
The results are presented in two steps:

evaluation of the geometric bias in the marker tracking method, and

evaluation of the performance on the marker tracking method in the presence of noise.
(1) Evaluation of the Geometric Bias in the Marker Tracking Method. Figure
7(a)
shows the geometric bias error in the absence of noise in an Object Central Voxel (OCV). The colour in each element is the error (in units of voxels) of the marker tracking method for each point on the 3D grid. Figure
7(b)
shows 2D image slices through Figure
7(a)
showing the best

and worst locations

. Analysis demonstrated that overall the geometric bias of the marker tracking method ranges from 0 to a maximum of

(with a mean of

and a standard deviation of

) voxels. The error is 0 for the symmetric cases (1–4 in Figure
4
) while the maximum error occurs in locations where a marker centre point coincides with 1/1.368th or 1/4.329th of a voxel; see, for example, white points in Figure
7(b)
(e.g., at

).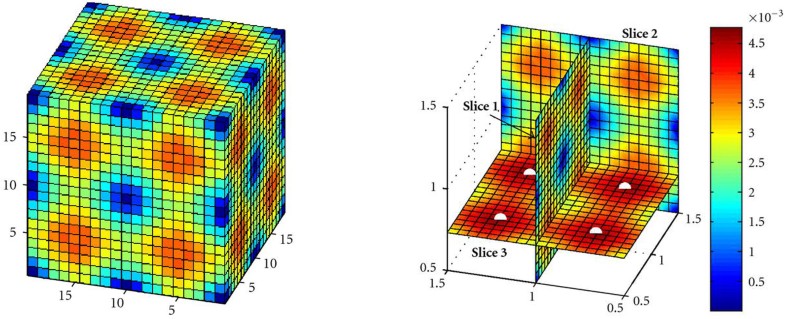 (2) Evaluation of the Performance on the Marker Tracking Method in the Presence of Noise. The performance of the marker tracking method for the noisy magnitude MR image simulations obtained from the 10 000 simulations at each SNR of 5 up to 35 is presented next. As the SNR increases from 5 to 35 the maximum, mean and minimum voxel errors vary according to Figure
8(a)
. The standard deviation is plotted in Figure
8(b)
. Although for

the maximum stays below 0.1127 in all cases, the method performs better when

is chosen depending on
SNR
. To illustrate this Figure
9
shows results for the SNR range 15–35 using

. Using a higher

means that the marker groups are composed of more voxels and thus a more accurate centre point can be calculated. The maximum voxel error for

at an SNR  = 19.5 (estimated SNR level) is

voxels; however using a

in this case results in a more threefold increase of the accuracy as the maximum error is reduced to

voxels. The optimum

value for a certain SNR can be determined using MR data simulations. Using simulations the error can be minimised for a given SNR by adjusting the

value.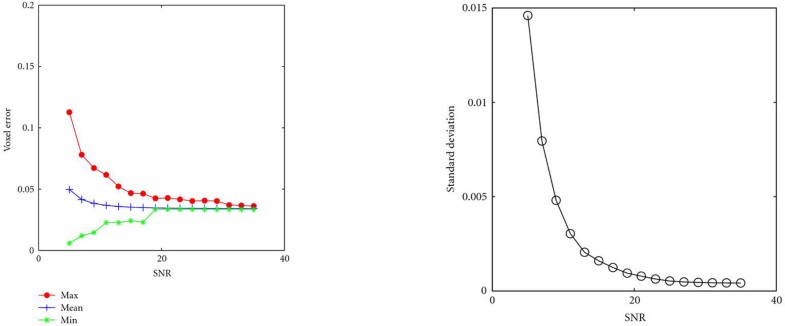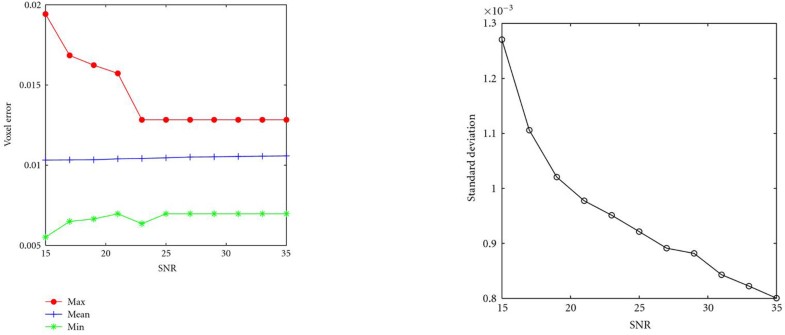 4. Discussion
Several MR imaging-based motion tracking algorithms have been proposed in the literature, for example, tagged MR imaging [41] and phase contrast MR imaging [42], but these all rely upon validation of the algorithms proposed. A review of the literature showed that the validation methods used for existing techniques are frequently incomplete, and this paper presents a novel validation method for MR imaging based on motion tracking using a marker tracking algorithm which itself is validated against simulated MR image data. Simulated data was generated for the noise-free case as well as for a variety of different Rician distributed noise levels. The noise-free image data allowed analysis of the error related to the geometric bias independently from other error sources.
Therefore the method proved to be robust with geometric bias errors of between

voxels and errors due to noise remaining below 0.1127 voxels for all cases simulated with signal-to-noise ratios from 5 to 35. These results were achieved for a global threshold value

. However altering the threshold value based on the SNR may result in a significant increase in accuracy. The optimum

value for a certain SNR can be determined using MR data simulations. Using simulations the error can be minimised for a given SNR by adjusting the

value.
The method proposed in this paper has two main advantages. The first is that the data used for validation is simulated and therefore can be chosen to have desired levels of noise. This permitted evaluation of the marker tracking method for different levels of noise which has not been done previously. Secondly, since this validation method is based on MR imaging, the marker tracking experiment and the MR imaging-based motion and deformation tracking can all be performed at the same time within the MR scanner.
Although this method has been developed for application to tagged MR imaging on the upper arm, the methods presented here are not limited to this application and can be applied to validate other types of MR imaging-based motion and deformation tracking techniques. Furthermore, these methods are independent of the chosen phantom shape.
5. Conclusion
A novel marker tracking method has been presented and validated using simulated MR image data. The marker tracking method is robust and the maximum geometric bias was

voxels while the error due to noise remains below 0.1127 voxels for Rician noise distributions with signal-to-noise ratios from 5 up to 35. This appears to be the only marker tracking algorithm suitable for the validation of MR-based motion and deformation tracking of soft tissue which has been validated against a "gold standard.''
Declarations
Acknowledgment
This work was funded by a Research Frontiers Grant (06/RF/ENMO76) awarded by Science Foundation Ireland.
Authors' Affiliations
(1)
Trinity Centre for Bioengineering, School of Engineering, Parsons Building, Trinity College, Dublin, Ireland
(2)
Trinity College Institute of Neuroscience, Trinity College Dublin, Dublin, Ireland
(3)
Mechanical and Manufacturing Engineering, Dublin City University, Dublin, Ireland
Copyright
© Kevin M. Moerman et al. 2010
This article is published under license to BioMed Central Ltd. This is an open access article distributed under the Creative Commons Attribution License, which permits unrestricted use, distribution, and reproduction in any medium, provided the original work is properly cited.