Scalable video encoding with macroblock-level parallelism
EURASIP Journal on Advances in Signal Processing
2014
2014:145
Received: 3 January 2014
Accepted: 1 September 2014
Published: 19 September 2014
Abstract
H.264 video codec provides a wide range of compression options and is popularly implemented over various video recording standards. The compression complexity increases when low-bit-rate video is required. Hence, the encoding time is often a major issue when processing a large number of video files. One of the methods to decrease the encoding time is to employ a parallel algorithm on a multicore system. In order to exploit the capability of a multicore processor, a scalable algorithm is proposed in this paper. Most of the parallelization methods proposed earlier suffer from the drawbacks of limited scalability, memory, and data dependency issues. In this paper, we present the results obtained using data-level parallelism at the macroblock (MB) level for encoder. The key idea of using MB-level parallelism is due to its less memory requirement. This design allows the encoder to schedule the sequences into the available logical cores for parallel processing. A load balancing mechanism is added to allow the encoding with respect to macroblock index and, hence, eliminating the need of a coordinator thread. In our implementation, a dynamic macroblock scheduling technique is used to improve the speedup. Also, we modify some of the pointers with advanced data structures to optimize the memory. The results show that with the proposed MB-level parallelism, higher speedup values can be achieved.
Keywords
Video encodingH.264MB-level parallelismElapse timeSpeedupOpenMPBarrierMulticore architectureScalabilityLoad balancing
1 Introduction
H.264 is an emerging video coding standard developed by the ITU-T Video Coding Experts Group (VCEG) and ISO/IEC Moving Picture Experts Group (MPEG) together with the partnership of Joint Video Team (JVT). H.264 has been developed with the aim of providing good-quality video at lower bit rates compared to previous video compression standards. H.264 also provides flexibility in serving broad range of video applications by supporting various bit rates and resolutions [1]. The improvement on bit rate efficiency of H.264 is at the cost of increased complexity compared to existing standards. The higher complexity of H.264 encoder results in longer encoding time [2]. This creates a need for improving the encoding time of the video for batch processing or real-time applications. Hardware acceleration or parallel algorithm for multicore processor is often needed to increase the processing speed of the encoder. Parallel algorithm is becoming popular with the usage of multicore processors over the years even for mobile devices. Parallel algorithms for H.264 encoder design have been discussed in several papers [2–9]. These papers describe different levels of parallelism that can be applied on H.264 encoder such as GOP level, frame level, slice level, and macroblock level. Out of these, macroblock-level parallelism is often favored for its fine granularity and its ability to prevent any video quality losses from its serial algorithm counterpart [4]. Macroblock-level parallelism provides good scalability and load balancing. Some of the main concerns in designing macroblock-level algorithm are the accessing pattern, the data partitioning, and the load balancing. Macroblock access pattern defines the way in which the data is to be processed in order to reduce the data dependencies. The data partitioning process defines how each macroblock can effectively be assigned to separate processor core. The load balancing mechanism ensures that each processor is loaded with similar amount of workload to prevent the processing core from staying idle or starvation.
In general, all the threads may not run in parallel and there will be a time difference of a few milliseconds to microseconds among the threads. This problem leads to load imbalancing. In this paper, a dynamic thread scheduling strategy is proposed to solve the load imbalancing problem. Furthermore, a new technique to access data patterns is also proposed to improve the encoding time. Another contribution of this paper is on memory optimization using advanced data structures. This paper proposes a scalable algorithm based on the above strategies that exploits the capability of a multicore processor using macroblock-level parallelism for video encoder. The remainder of this paper is organized as follows: Section 2 gives the description of previous work related to macroblock parallelism. Section 3 gives an overview on the design consideration of the parallel algorithm. In Section 4, the design and implementation of macroblock parallelism of H.264 encoder parallelism are discussed in detail. In Section 5, the experimental results of the design are presented and analyzed. Section 6 consists of the conclusion and the possible future work.
2 Literature review
Many researchers have been working on parallel algorithms. The popular parallel algorithms that are proposed are at the GOP, frame, slice, and macroblock levels. Many researchers have implemented macroblock-level parallelism [3–10], but all the proposed methods so far have scalability issues. In [4], a method using SIMD instructions has been proposed to improve the encoding time of H.264. However, this approach is too complex to implement on personal computers. The parallel algorithm using wave-front technique reported in [5] splits a frame into macroblocks and maps these blocks to different processors along the horizontal axis. This technique requires data communication among the parallel processing blocks (except for the outer blocks of a frame), slowing down the encoding process. The speedup values achieved with this implementation are 3.17 and 3.08 for quarter common intermediate format (QCIF) and common intermediate format (CIF) video formats, respectively [5]. The macroblock region partition (MBRP) algorithm proposed in [6] adopts wave-front technique and focuses on reducing the data communication between processors using a new data partitioning method. This data partitioning method assigns a specific macroblock region for each processor, so that neighboring macroblocks are mostly handled by the same processor. However, in this implementation, the waiting time of the processors before starting to encode a new macroblock is high [6]. The speedup values achieved with this method are 3.32 and 3.33, respectively, for CIF and standard definition (SD) video formats. The MBRP algorithm has not been applied to higher resolutions such as high-definition (HD) and full high-definition (FHD). A new macroblock-level parallelism method has been reported in [7]. In this method, the data partitioning on the macroblocks eliminates the dependency among the macroblocks at the beginning of the encoding process. Encoding the subsequent frames is initiated only when the reconstructed macroblocks constitute more than half of a frame. Thus, this method increases the concurrency of the thread-level parallelism to process multiple frames. The speedup values achieved with this method for CIF, SD, and HD video resolutions are around 3.8 ×. However, in this implementation, the authors have used only I and P frames and they have not included B frames. The dynamic data partition algorithm proposed in [8] for macroblock-level parallelism reduces data communication overhead and improves concurrency. The dynamic data partition algorithm achieves speedup values of 3.59 for CIF, 3.88 for 4CIF, and 3.89 for HD resolution video formats. Even though good speedup values are obtained, these values are not consistent with different video formats. Various thread-level techniques have been proposed in [9] to effectively utilize a multicore processor. We have adopted some of these techniques in the proposed algorithm to improve the encoding time.
4 Design and implementation of parallel video coding
5 Experimental results
The H.264 reference software JM 18.0 is implemented in sequential with C language. After modifying the JM 18.0 with some optimized C language data structures, JM 18.0 is parallelized by using OpenMP. The simulation is performed using a high-motion video sequence (rush_hour) with different resolutions such as QCIF, CIF, SD, and HD. In this implementation, 300 frames are encoded for all sequences. For each of this resolution, a variable number of threads from 2 to 8 are tested.
5.1 CPU performance
Figure
15
A,B shows the CPU usage graphs before and after parallelization, respectively. It is observed that all the four cores are equally balanced after implementation of the MB-level parallelism.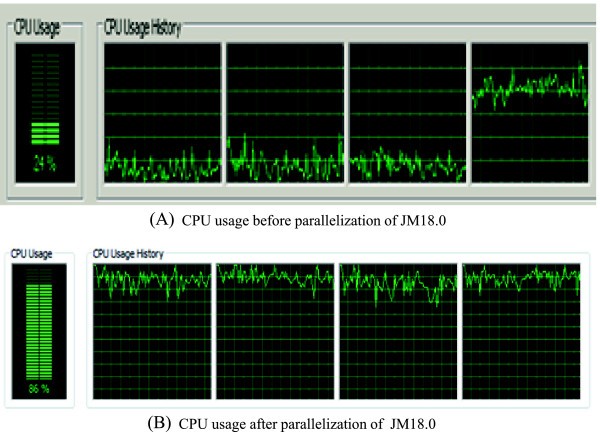 5.2 Speedup performance
The speedup values obtained using different video test sequences with HD resolution using threads, four-thread and eight-thread configurations, are shown in Table 2.
6 Conclusions
A new scalable method based on macroblock-level parallelism has been presented. The proposed method has advantages such as good load balancing, scalability, and higher speedup values compared to the existing methods. Unlike the existing methods where one thread is specifically used for the purpose of assigning macroblock indices, the proposed method makes use of all the threads to encode the macroblocks leading to good load balancing. This is achieved by using a dynamic scheduling technique. In order to obtain better scalability, the proposed method makes use of a dynamic data partitioning method. Experimental results show that speedup values close to theoretical values can be obtained using the proposed method. Speedup values of 1.97, 3.96, and 7.71 have been obtained using two, four, and eight threads, respectively. Furthermore, it has been found that the speedup values remain constant for QCIF, CIF, SD, and HD resolutions. These values are very close to the theoretical speedup values without degradation in the video quality. Although, the focus of this paper is on the use of H.264 encoder, the proposed technique can be applied to other video codecs and computationally intensive applications to speedup the process.
Declarations
Acknowledgements
The authors would like to thank Intel Technology Sdn.Bhd for their sponsored funding for this research.
Authors' Affiliations
(1)
Center for Visual Computing, Multimedia University, Cyberjaya, Malaysia
Copyright
© Sankaraiah et al.; licensee Springer. 2014
This article is published under license to BioMed Central Ltd. This is an Open Access article distributed under the terms of the Creative Commons Attribution License (http://creativecommons.org/licenses/by/2.0), which permits unrestricted use, distribution, and reproduction in any medium, provided the original work is properly cited.