Research Article

Open Access
Marker-Based Human Motion Capture in Multiview Sequences
EURASIP Journal on Advances in Signal Processing
2010
2010:105476
Received: 24 March 2010
Accepted: 6 November 2010
Published: 22 November 2010
Abstract
This paper presents a low-cost real-time alternative to available commercial human motion capture systems. First, a set of distinguishable markers are placed on several human body landmarks, and the scene is captured by a number of calibrated and synchronized cameras. In order to establish a physical relation among markers, a human body model is defined. Markers are detected on all camera views and delivered as the input of an annealed particle filter scheme where every particle encodes an instance of the pose of the body model to be estimated. Likelihood between particles and input data is performed through the robust generalized symmetric epipolar distance and kinematic constrains are enforced in the propagation step towards avoiding impossible poses. Tests over the HumanEva annotated data set yield quantitative results showing the effectiveness of the proposed algorithm. Results over sequences involving fast and complex motions are also presented.
Keywords
Particle Filter
Epipolar Line
Human Body Model
Sampling Importance Resampling
Human Motion Capture
1. Introduction
Accurate retrieval of the configuration of an articulated structure from the information provided by multiple cameras is a field that found numerous applications in the recent years. The grown of computer graphics technology together with human motion capture (HMC) systems have been extensively used by the cinematographic and video games industry to generate virtual avatars [1]. Medicine also benefited from these advances in the field of orthopedics, locomotive pathologies assessment, or sports performance improvement [2]. In this field, despite markerless HMC systems have attained significant performance ratios in some scenarios [3], only HMC systems aided by markers placed on some body landmarks can produce high-accuracy results.
Depending on the type of employed markers, HMC systems are classified in two groups: nonoptical (inertial, magnetic, and mechanic) or optical systems (active and passive). Optical systems based on photogrammetric methods are more used than the nonoptical ones, usually requiring special suits embedding rigid skeletal-like structures [4], magnetic [5] or accelerometric devices [6] or multisensor fusion algorithms [7]. Instead, image-based or optical systems allow a relative freedom of movement and are less intrusive. A common issue of all optical and nonoptical systems is the fact that they are usually expensive and require a dedicated hardware. The most usual involve IR retro-reflective markers that reflect back light, that is, generated near the cameras lens [8]. Other optical systems triangulate positions by using active markers that emits a pulse modulated signal. This allows distinguishing among markers and to automatically label them [9].
This paper focuses on HMC systems with passive markers in a multicamera scenario. These systems first require an accurate reconstruction of the markers' 3D position from its 2D projections which is not a trivial problem. Matches need to be established between the detected markers in the different views, defining the multiple view correspondences through homographies or algebraic methods [10]. This process is prone to errors due to occlusions, detection noise, and the proximity between markers. A temporal tracking of the markers also needs to be performed, to identify the markers in each sequence frame, thus yielding a 3D trajectory for each marker. Although professional systems exist for this purpose, errors occur when crucial markers become occluded or when markers' trajectories are confused. Finally, most applications require the transformation of the markers localization and trajectories to the motion parameters of a kinematic skeleton model. Commercial tools that perform this transformation are generally semiautomatic, thus becoming a labor-intensive task.
Once the 3D marker positions are obtained, it is required to fit a selected human body model (HBM) to these data to obtain kinematically meaningful parameters to perform either an analysis (i.e., for gesture recognition) or a synthesis (i.e., for avatar animation). However, in most of the systems, the markers' 3D position estimation and the fitting steps are decoupled. One of the first attempts to use an anatomical human model to increase the robustness of a HMC system is presented in [11] were the algorithm computes a skeleton-and-marker model using a standardized set of motions and uses it to resolve the ambiguities during the 3D reconstruction process. Another approach using a HBM and data clustering is presented in [4]. Detection of 2D markers in separate images and its analysis using calibration information have been presented in [12] enforcing an HBM afterwards. A similar technique using a Kalman filter involving the HBM in the data association step was presented in [2].
In this paper, a low-cost real-time multicamera algorithm for marker-based human motion capture is presented. The proposed algorithm can work with any marker type detectable onto a set of 2D planes under perspective projection and it is robust to markers' occlusion and noisy detections. Since variables involved with the employed analysis HBM do not hold a linear relationship and the involved statistical distributions are non-Gaussian, we opted for a Monte Carlo approach to estimate the pose of the HBM at a given time instant. In our case, marker detection and HBM pose estimation are performed in the same analysis loop by means of an annealed particle filter [13]. Epipolar geometry is exploited in the particle likelihood evaluation by means of the symmetric epipolar distance [14] being robust to noisy marker detections and occlusions. Moreover, kinematic restrictions are applied in the particle propagation step towards avoiding impossible poses. Finally, effectiveness of the proposed algorithm is assessed by means of objective metrics defined in the framework of the HumanEva data set [3]. The presented algorithm is intended to work with any multicamera setup and regardless of the complexity of the selected human body model.
2. Monte Carlo-Based Human Motion Capture
2.1. Problem Formulation
The evolution of a physical articulated structure can be better captured with model-based tracking techniques [15]. In this process, the pose of an articulated HBM is sequentially estimated along time using video data from a number of cameras. Let

be the state vector to be estimated formed by the defining parameters of an articulated HBM, angles at every joint, and

the state space describing all possible valid poses an HBM may adopt, where

.
From a Bayesian perspective, the articulated motion estimation and tracking problem is to recursively estimate a certain degree of belief in the state vector

at time

, given the data

up to time

. Thus, it is required to calculate the posterior pdf

. However, this pdf may be peaky and far from being convex, and hence cannot be computed analytically unless linear-Gaussian models are adopted. Even though Kalman filtering provides the optimal solution under certain assumptions, it tends to fail when the estimated probability density presents a multimodal distribution or the dimension of the state vector is high. Usually, this is the type of pdf s involved in HMC processes.
2.2. Particle Filtering
Hence, the weights are proportional to the likelihood function that will be computed over the incoming data

.
Usually, PF will be able to concentrate particles in the main mode of the likelihood function thus providing an estimation of the state space vector. However, multiple modes of similar size in the likelihood function might bias the estimation. In order to cope with such cases, the estimation is set to be the state vector associated to the maximum or the mean of all particle weights. Finally, a propagation model is adopted to add a drift to the state of the re-sampled particles in order to progressively sample the state space in the following iterations [16].
Another issue arising when applying PF techniques to computer vision problems is to derive a valid observation model

relating the input data

with the particle state

. Nevertheless, even if such likelihood model can be defined, its evaluation may be very computationally inefficient. Instead of that, a fitness function

can be constructed according to the likelihood function, such that it provides a good approximation of

but is also relatively easy to calculate.
2.3. Annealing Strategy
PF is an appropriate technique to deal with problems where the posterior distribution is multimodal. This usually happens when state space dimensionality is high, like in HMC. To maintain a fair representation of

, a certain number of particles is required in order to find its global maxima instead of a local one. It has been proved in [18] that the amount of particles required by a standard PF algorithm to achieve a successful tracking follows an exponential law with the number of dimensions. Articulated motion tracking typically employs state spaces with dimension

, thus standard PF turns out to be computationally unfeasible.
There exist several possible strategies to reduce the complexity of the problem based on refinements and variations of the seminal PF idea. Partitioned and hierarchical sampling [18, 19] are presented as highly efficient solutions to this problem. In the instance when there exists a tractable substructure between some variables of the state model, specific states can be marginalized out of the posterior, leading to the family of Rao-Blackwellized PF algorithms [20]. However, these techniques impose a linear hierarchy of sampling which may not be related to the true body structure assuming certain statistical independence among state variables. Finally, annealed PF [13] is one of the most general and robust approaches to estimation problems involving high-dimensional and multimodal state spaces. In this work, this technique will be extended to our marker-based scenario.
where

are the annealing scheduling parameters.
3. Filter Implementation
When implementing an annealed PF, several issues must be addressed: initialization, likelihood evaluation, particle propagation, and occlusion management. In the following section, we discuss the implementation of these two factors when employing a set of marker detections in multiple cameras as the input and an HBM as the tool to drive the physical relations among the variables of the state space (see Figure
2(a)
).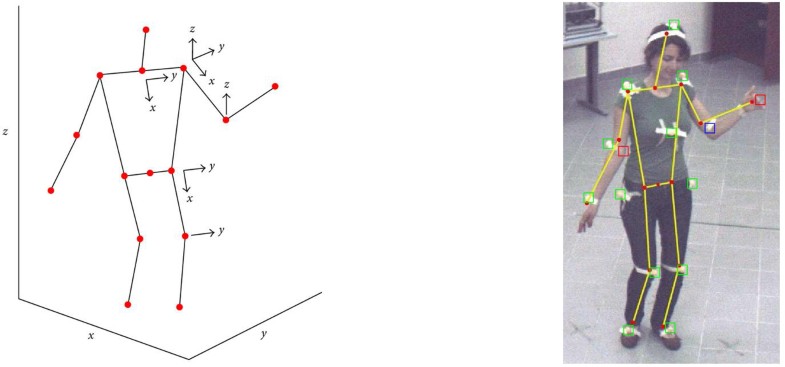 4. Experiments and Results
5. Conclusion
This paper presents a robust real-time low-cost approach to marker-based human motion capture using multiple cameras synchronized and calibrated. Progressive fitting of a human body model through the annealed particle filtering algorithm using a multi-view consistency likelihood function, the symmetric epipolar distance, and a kinematically constrained particle propagation model allow an accurate estimation of the body pose. Quantitative evaluation based on HumanEva dataset assessed the robustness of the algorithm when dealing faulty input data, even in very harsh conditions. Fast dance motion was also analyzed proving the adequateness of our technique to deal with a real scenario data.
Authors' Affiliations
(1)
Signal Theory and Communications Department (TSC), Universitat Politècnica de Catalunya (UPC), Barcelona, Spain
Copyright
© Cristian Canton-Ferrer et al. 2010
This article is published under license to BioMed Central Ltd. This is an open access article distributed under the Creative Commons Attribution License, which permits unrestricted use, distribution, and reproduction in any medium, provided the original work is properly cited.