Research Article

Open Access
Driver Drowsiness Warning System Using Visual Information for Both Diurnal and Nocturnal Illumination Conditions
MarcoJavier Flores

1,

JoséMaría Armingol

1 and

Arturo de la Escalera

1

Email author
EURASIP Journal on Advances in Signal Processing
2010
2010:438205
Received: 23 November 2009
Accepted: 21 June 2010
Published: 11 July 2010
Abstract
Every year, traffic accidents due to human errors cause increasing amounts of deaths and injuries globally. To help reduce the amount of fatalities, in the paper presented here, a new module for Advanced Driver Assistance System (ADAS) which deals with automatic driver drowsiness detection based on visual information and Artificial Intelligence is presented. The aim of this system is to locate, track, and analyze both the drivers face and eyes to compute a drowsiness index, where this real-time system works under varying light conditions (diurnal and nocturnal driving). Examples of different images of drivers taken in a real vehicle are shown to validate the algorithms used.
Keywords
Face Detection
Gabor Filter
Advance Driver Assistance System
Face Tracking
Condensation Algorithm
1. Introduction
ADAS is part of the active safety systems that interact to a larger extent with drivers to help them avoid traffic accidents. The goal of such systems is to contribute to the reduction of traffic accidents by means of new technologies; that is, incorporating new systems for increasing vehicle security, and at the same time, decreasing danger situations that may arise during driving, due to human errors. In this scenario, vehicle security research is focused on driver analysis. In this particular research, a more in-depth analysis of drowsiness and distraction is presented [1].
Drowsiness appears in situations of stress and fatigue in an unexpected and inopportune way and may be produced by sleep disorders, certain types of medications, and even, boredom, for example, driving for long periods of time. The sleeping sensation reduces the level of vigilante producing danger situations and increases the probability of an accident occurring.
It has been estimated that drowsiness causes between 10% and 20% of traffic accidents, causing both fatalities dead [2] and injuries [3], whereas within the trucking industry 57% of fatal truck accidents are caused by this problem [4, 5]. Fletcher et al. in [6] have stated that 30% of all traffic accidents have been caused by drowsiness, and Brandt et al. [1] have presented statistics showing that 20% of all accidents are caused by fatigue and lack of attention. In the USA, drowsiness is responsible for 100000 traffic accidents yearly producing costs of close to 12.000 million dollars [7]. In Germany, one out of four traffic accidents originate from drowsiness, while in England 20% of all traffic accidents are produced by drowsiness [8], and in Australia 1500 million dollars has been spent on fatalities resulting from this problem [9].
In this context, it is important to use new technologies to design and build systems that are capable of monitoring drivers and to measure their level of attention during the complete driving process. Fortunately, people in a state of drowsiness produce several visual cues that can be detected in the human face, such as
(i)

(ii)

(iii)

(iv)

(v)
By taking advantage of these visual characteristics, computer vision is the most feasible and appropriate technology available to deal with this problem. This paper presents the drowsiness detection system of the IVVI (Intelligent Vehicle based Visual on Information) vehicle [10]. The goal of this system is to automatically estimate the driver's drowsiness and to prevent drivers falling asleep at the wheel.
This paper is laid out as follows. Section 2 presents an extensive review on the state of the art considering different lighting conditions. A general framework of the proposed method is presented Section 3. There are two systems, one for diurnal and another nocturnal driving. Both have a first step for face and eye detection, followed for a second step for face and eye tracking. The output of both systems is a drowsiness index based on a support vector machine. A deeper explanation of both systems is presented in Sections 4 and 5 where the similarities and differences of both approaches are highlighted, and the results are shown. Finally, in Section 6, the conclusions are presented.
2. Related Work
To increase traffic safety and to reduce the number of traffic accidents, numerous universities, research centers, automotive companies (Toyota, Daimler Chrysler, Mitsubishi, etc.), and governments (Europe Union, etc.) are contributing to the development of ADAS for driver analysis [5], using different technologies. In this sense, the use of visual information to obtain the state of the driver drowsiness and to understand his/her behavior is an active research field.
This problem requires the recognition of human behavior when in a state of sleepiness by means of an eye and facial (head) analysis. This is a difficult task, even for humans, because there are many factors involved, for instance, changing illumination conditions and a variety of possible facial postures. Considering the illumination, the state of the art has been divided in two parts; the first provides details on systems that work with natural daylight whereas the second deals with systems which operate with the help of illumination systems based on near infrared (NIR) illumination.
2.1. Systems for Daylight Illumination
To analyze driver drowsiness several systems have been built in recent years. They usually require the problem to be simplified to work partially or for specific environments; for example, D'Orazio et al. [11] have proposed an eye detection algorithm that searches for the eyes within the complete image and have assumed that the iris is always darker than the sclera. Using the Hough transform for circles and geometrical constraints the eye candidates are located; next, they are passed to a neural network that classifies between eyes and noneyes. This system is capable of classifying eyes as being open or closed. The main limitations to this algorithm are as follows. It is applicable only when the eyes are visible in the image, and it is not robust for changes in illumination. Horng et al. [12] have presented a system that uses a skin color model over an HSI space for face detection, edge information for eye localization, and dynamical template matching for eye tracking. By using color information from the eyeball, the state of the eye is defined; thus the driver's state can be computed, that is, asleep or alert; if the eyes are closed for five consecutive frames, the driver is assumed to be dozing. Brandt et al. [1] have shown a system that monitors driver fatigue and lack of attention. For this task, the Viola Jones (VJ) method has been used [13] to detect the driver's face. By using the optical flow algorithm on eyes and the head this system is able to compute the driver's state. Tian and Qin in [2] have built a system which verifies the state of the driver's eye. Their system uses Cb and Cr components of the YCbCr color space; with a vertical projection function this system locates the face region and with a horizontal projection function it locates the eye region. Once the eyes are located the system computes the eye state using a complexity function. Dong and Wu [3] have presented a system for driver fatigue detection; this is based on a skin color model on a bivariate Normal distribution and Cb and Cr components of the YCbCr color space. After locating the eyes, it computes the fatigue index using the distance of the eyelid to classify whether the eyes are open or closed; if the eyes are closed for five consecutive frames, the driver is considering to be dozing, as in Horng's work. Branzan et al. [14] also have presented a system for drowsiness monitoring using template matching to analyze the state of the eye.
2.2. Systems Using Infrared Illumination
As a result of nocturnal lighting conditions, Ji et al. in [4, 15] have presented a drowsiness detection system based on NIR illumination and stereo vision. This system locates the position of the eye using image differences based on the bright pupil effect. Later, this system computes the blind eyelid frequency and eye gaze to build two drowsiness indices: PERCLOS (percentage of eye closure over time) [7] and AECS (average eye closure speed). Bergasa et al. [5] have also developed a nonintrusive system using infrared light illumination this system computes the driver's vigilance level using a finite state automata (FSM) [16] with six different eye states that compute several indices, among them, PERCLOS; this system is also capable of detecting inattention considering a facial posture analysis. Other research work based on this type of illumination has been presented by Grace [17], where the authors measure slow eyelid closure. Systems using NIR illumination work well under stable lighting conditions [5, 18]; however, these systems present drawbacks for applications in real vehicles, where the light continually changes. In this scenario, if the spectral pupils disappear, then the eye detection process becomes more complex.
3. System Design for Drowsiness Detection
This paper presents a system which detects driver drowsiness which works for both day and night time conditions and follows the classification presented in the state of the art.
This composition has allowed two systems to be obtained, one for day and a second for night time conditions. The first works with natural daylight illumination and the second with artificial infrared illumination. It is interesting to note that both systems operate using grayscale images taken within a real vehicle.
The general scheme of both systems is shown in Figure
1
, where six modules are presented as follows:
(i)

(ii)

(iii)

(iv)

(v)

(vi)
Each one of these parts will be explained in the following sections.
4. Day System Design
In this section, the daytime system based on the algorithm schematic shown in Figure 1(a) will be described, where the visual information is acquired using a digital camera.
5. Night System Design
In this part of the work, the night system will be described, where this is based on the algorithm scheme shown in Figure 1(b). Note that it is composed of both software and hardware platforms. The main difference between this and the previous system is in perception system.
5.1. Perception System
The perception system is used to acquire visual information of the driver's head during nocturnal driving. It consists of three parts: a vision system, a synchronization system, and an illumination system; see Figure
26
.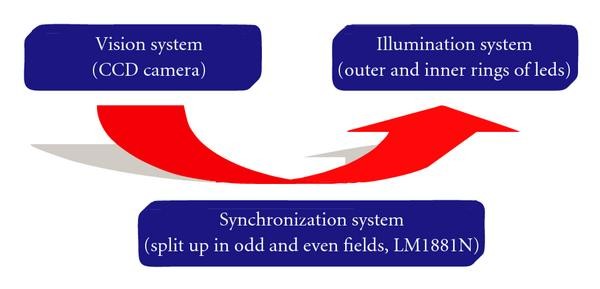 The first part is composed of a miniature CCD camera where the IR filter has been removed. This camera generates a composite video signal (PAL, phase alternating line). The second part takes the signal from the camera and splits it up into odd and even fields using the LM1881N video sync separator. In the third and last part, the illumination system, based on near-infrared (NIR) light (700–900 nm), contains two sets of NIR light-emitting diode (LED) rings (inner and outer) which produce odd and even image fields where the pupil effect is highlighted [
3
,
4
]. The inner led ring surrounds the camera, while the outer leds are placed over a ruler in a symmetric position around the camera. Figure
27(a)
shows this system, and Figure
27(b)
provides an example of an illuminated driver's face from the NIR illuminator.

Each frame is deinterlaced in both odd and even fields which contain the dark and bright pupil images, separately. Hence, the height of the odd and even image fields is a medium of the original image; this procedure can be seen in Figure 27(c): the top photograph is the even image field, and the bottom is the odd image field. Even an odd image will be used later on for eye detection.
5.2. Eye Detection
The bright effect pupil is the main principle behind locating the position of the eye. To do this sense, three images have been generated from the initial driver image, these are the difference image (

), the edge image (

), and the bright part of the fast radial symmetry transform (FRST) image [32] (

).
Most researchers only make use of the difference image for pupil detection; however, in real driving conditions, this image deteriorates due to external illumination, vibrations, and so forth and is also very sensitive to lighting conditions. In such circumstances, it is necessary to incorporate more robust information to improve the detection step. Therefore, in this paper, the edge and FRST images have been implemented to obtain enhanced results considering the aforementioned drawbacks.
Once all the images used to detect the eyes have been specified, the next step is to compute a binary threshold for the difference, edge, and FRST images. In the first of these, the threshold is obtained from a systematic analysis of its histogram, where two groups are formed. In the second case, the histogram is modelled using a Gamma distribution function where the 90% cumulative interval provides the threshold. Finally, in the third image, the maximum histogram value produces the required threshold level. This yields three binary images consisting of binary blobs that may contain a pupil.
After several SVM training experiments, it was decided to use the RBF kernel, that is,

is

, and

; these parameters achieve a high training classification rate of about 93%.
5.3. Face Detection
Once the eyes have been located, the system continues with driver face detection. To perform this task, a human face model has been developed considering the pupil's position and face anthropometric properties [
19
]. Let

and

be the center position of the right and left eye, respectively, and

their distance (in pixels); the area of the face is obtained from the following equations:
where

is the centre of the face, and

and

are the axes of the face ellipse. Figure 30 depicts this model and its result.
5.4. Tracking
The tracking process has been developed using the Condensation algorithm for face and eye tracking.
5.4.1. Face Tracking
This system uses the neural networks [
33
] and models and parameters proposed previously for face tracking. Now that the elements for tracking have been identified, only the backpropagation neural network training is developed in this section. Before training, a preprocessing step that consists of using a Gabor filter [
18
] with one scale and two orientations has been implemented. After this, the characteristic vector which consists of gray-level values of pixels coming from the face image is extracted. The rate of classification subsequent to the training is more than 92%. Figure
31
shows several face examples, and Table
4
presents experimental results. In this table, the true position has been retrieved manually.
Table 4
Results of face and eye tracking and eye state analysis.
Driver

Total frames

Face tracking

Eye tracking

Eye state

Tracking failure

Correct rate

Tracking failure

Correct rate

Eyes open

Eyes closed

Correct rate

D1

800

40

95.00%

14

98.25%

690/700

97/100

97.78%

D2

646

29

95.51%

29

95.51%

500/530

100/116

90.27%

D3

600

20

96.67%

24

96.00%

345/244

206/226

91.69%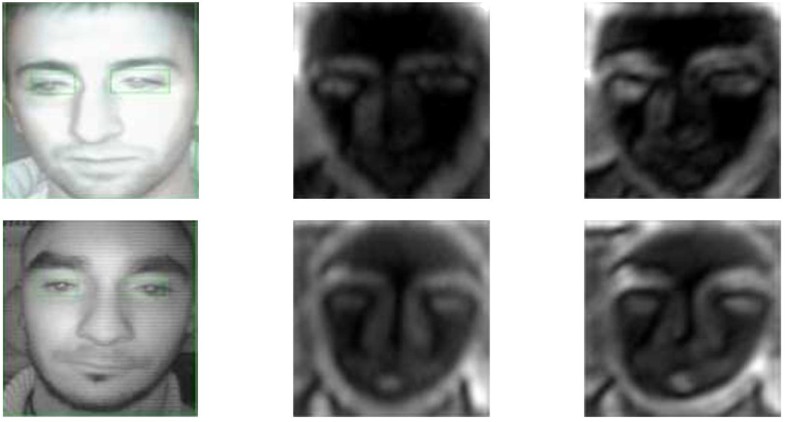 The density function of the initial state is

, where

is computed using the previous face detection method, and

is given in [
4
]. Figure
32
shows the a posterior density function of the face center tracking.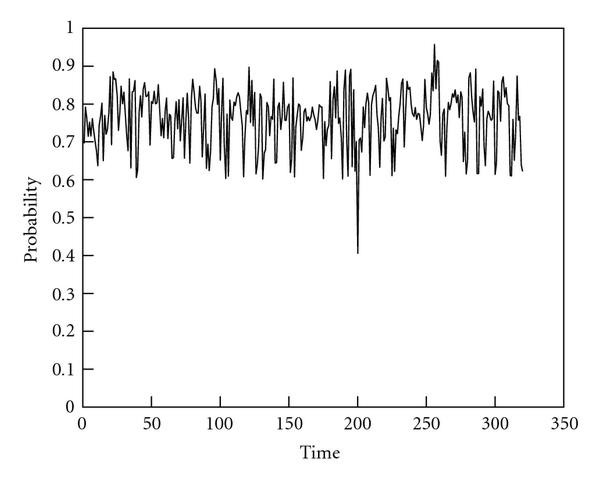 5.4.2. Eye Tracking
For this task, the state of the eye is characterized by its position and velocity. These parameters are also described in the diurnal system. To evaluate the probability observation density, a triangular density function based on the value of the difference image has been used (Figure
33
). This function takes into account the gray-level value for the intensity of the illumination system.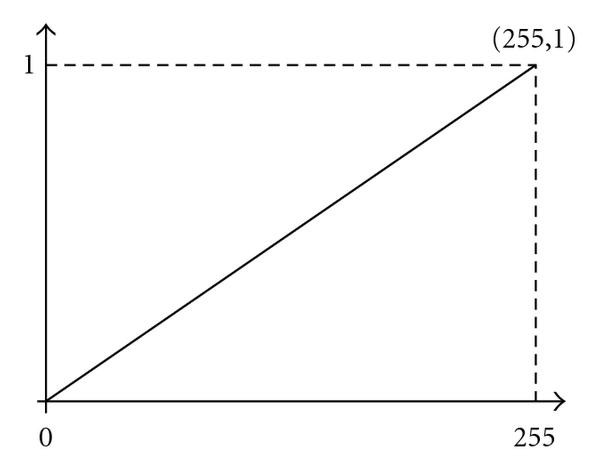 CA is initialized when the eyes are detected from the method described in the previous section plus a white noise. In Table
4
the eye tracking results are presented, which have been carried out in several sequences of images. Again, the true position has been retrieved manually. Additionally, Figure
34
shows the a posterior density function of both eyes.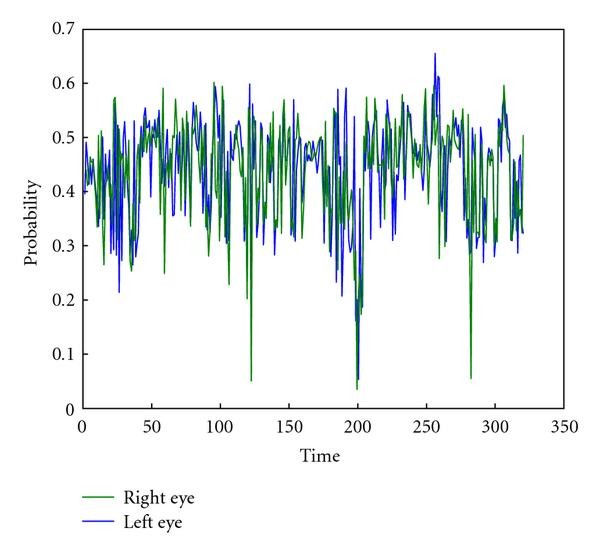 To evaluate the probability observation density, a triangular density function based on a value from the difference image has been used. CA is initialized when the eyes are detected using the method described in the previous section plus a white noise. Table 4 shows the eye tracking results which have been obtained from several image sequences.
5.5. Eye State Detection and Drowsiness Index
To identify drowsiness from an eye analysis, knowledge of the eye's state is required, that is, open or closed, in time and to develop an analysis over large periods of time, that is, to measure the time spent in each state. Classification of the open and closed state is complex due to changes in the shape of the eye, the changing position, and face rotations, as well as variations in twinkling and illumination, and so forth. All of these factors make it difficult to reliably analyze the eyes. However, when using the edge and FRST images, the eye state may be computed satisfactorily.
The PERCLOS [
7
] has been implemented in this system. Figure
35
presents an instantaneous result of this system obtained from a driver's image, and in Figure
36
the evolution of the drowsiness index graph for a sequence of driver drowsiness is presented.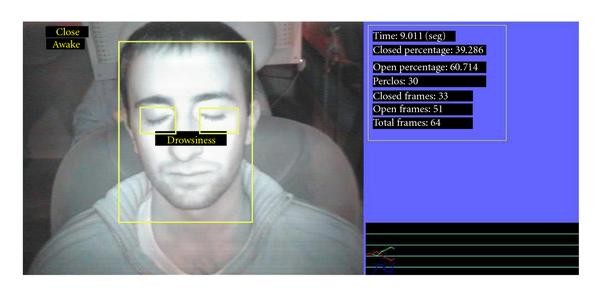 5.6. Distraction
This method is similar to the previous case, once the face is continuously located in time; a neural network is used to determine its orientation and to verify the driver's level of distraction. If the system detects that the face position is not facing forward, an alarm cue is issued to alert the driver of a danger situation.
6. Conclusions
In this paper, a research project to develop a nonintrusive and autonomous driver drowsiness system based on Computer Vision and Artificial Intelligence has been presented. This system uses advanced technologies which analyze and monitor the state of the driver's eye in real-time and for real driving conditions; this is driving conditions for both daytime and nocturnal situations.
In the first case, based on the results presented in Tables 1, 2, and 3, the algorithm proposed for eye detection, face tracking, and eye tracking is shown to be robust and accurate for varying light, external illumination interference, vibrations, changing backgrounds, and facial orientations. In the second case, and as presented in the results of Table 4, the system is also observed to provide agreeable results.
To acquire the data required to develop and test the algorithms presented in this paper, several drivers have been recruited and were exposed to a wide variety of difficult situations commonly encountered on roadways, for both daytime and nocturnal conditions. This guarantees and confirms that the experiments presented here are proven to be robust and efficient for real traffic scenarios. The images were taken using two cameras within the IVVI (Intelligent Vehicle based on Visual Information) vehicle (Figure 27(a)): a pin-hole analog camera connected to a frame-grabber for the nocturnal illumination and a fire-wire camera for the diurnal use. Besides that, the hardware processes 4-5 frames per second using an Intel Pentium D, with 3.2 GHz, 2 GB. RAM memory and MS Windows XP.
IVVI is an experimental platform used to develop the driver assistance systems for real-life driving conditions. The most up to date version is a Nissan-Note car; see Figure
37(a)
. This vehicle is equipped with a processing system, which processes the information coming from the cameras. The processing system is composed of three personal computers (Figure
37(b)
).

For future work, the objective will be to reduce the percentage error, that is, reduce the amount of false alarms; to achieve this, additional experiments will be developed, using additional drivers and incorporating new analysis modules, for example, facial expressions.
Declarations
Acknowledgments
This paper was supported in part by the Spanish Government through the CICYT projects VISVIA (Grant TRA2007-67786-C02-02) and POCIMA (Grant TRA2007-67374-C02-01).
Authors' Affiliations
(1)
University Carlos III of Madrid, Leganés, Madrid, Spain
Copyright
© Marco Javier Flores et al. 2010
This article is published under license to BioMed Central Ltd. This is an open access article distributed under the Creative Commons Attribution License, which permits unrestricted use, distribution, and reproduction in any medium, provided the original work is properly cited.